Many people consider 'attorney' and 'lawyer' as synonymous, often using the terms interchangeably in everyday conversations. This usage can generally proceed without raising eyebrows or causing confusion.
However, it's worth noting that a distinction between these titles does exist. While subtle differences might seem trivial to laypersons, they do hold significance within the profession and can be potentially enlightening for those unfamiliar with them.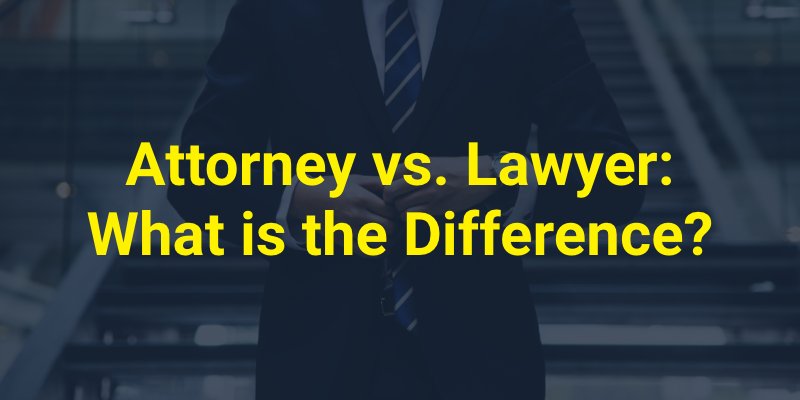 Attorneys and Lawyers Both Go to Law School
Both attorneys and lawyers follow the same path in terms of education. They attend law schools accredited by the American Bar Association; these top-notch institutions offer high-quality classes, competent professors, and a ton of educational resources to their students.
Admitting criteria differ among law schools but require a bachelor's degree for admission. These programs also provide legal learning tools such as well-stocked libraries and aid from experienced professors.
It is this accreditation process that filters out non-credible entities posing as legitimate establishments offering authorized legal degrees.
Upon successful completion of the program, graduates receive their Juris Doctor degree (J.D.), at which point they can proclaim themselves 'lawyers.'
Lawyers Must Take Certain Steps to Become Attorneys
While being a lawyer reflects your degree of legal education, becoming an attorney requires further steps and qualifications:
Bar Exam
People who want to become attorneys have to pass the bar exam. This test looks at how well they understand different parts of the law, like laws about government (constitutional law), injuries (tort law), crime (criminal procedures), and contracts. Passing this difficult test shows that they know quite a bit about all sorts of legal subjects.
Character and Fitness Exam
Aside from the bar exam, another key requirement for becoming an attorney is successfully completing a Character and Fitness examination. This evaluation involves conducting an exhaustive investigation into various aspects of your personal history.
The review process includes confirming details about past employment history, academic qualifications, previous residences or relocations, any criminal records or arrests that you may have had in the past, as well as any prior bar admissions. It's essentially a means of verifying that potential attorneys uphold high ethical standards and display moral aptitude.
Not only does this ensure you're an upstanding citizen with no undisclosed misgivings in your history, but it also reinforces public trust by ensuring every practicing attorney maintains stringent ethical practices while protecting their client's rights.
Attorneys Must Pay Dues and Engage in Continuing Education
Once you've become a licensed attorney, there are ongoing obligations that allow you to sustain your practicing status. For instance, it is mandatory for attorneys to pay annual dues to their respective state bar associations. 
Another critical step in maintaining your licensure involves continuous learning through Continuing Legal Education (CLE) courses. Law isn't static – new statutes get enacted, courts deliver fresh interpretations of existing rules, and novel issues emerge, which attorneys must stay aware of.
Attorneys Can Represent Clients
One of the most significant roles of an attorney is to represent clients. They give advice, help with important legal papers, speak for them and represent them in court, and negotiate deals or settlements. Basically, an attorney's job is to protect the rights of their clients at all times during the legal process.
What Does a Lawyer Do?
A lawyer is someone who has learned a lot about law through schooling. But without passing the bar exam and getting licensed as an attorney, they can't speak for clients in court or give them legal advice directly.
Certain roles within the law may not require direct client representation or counseling, yet still rely heavily on their broad understanding of the law and regulations. For example, lawyers often work as policy advisors in government institutions, helping to craft laws and legislation.
In everyday conversation, it's common for people to use the terms 'lawyer' and 'attorney' interchangeably – they both work within these conversations. However, being aware of these nuances can bring a greater appreciation for what each role entails.
Our Experienced Attorneys Are Ready to Take Your Case
At Hastings & Hastings, you will always meet with a licensed attorney. Our team of experienced Arizona attorneys is ready to meet with you in a free consultation to discuss your case and your legal options. Contact our firm today to get started.