Few places in the world are as beautiful and as inviting for year 'round bicycle riding as Phoenix. The problem? Despite having over 700 miles of bicycle infrastructure, with more than 600 miles of bike lanes, Arizona is the fifth more dangerous state for bicyclists. Bicycling is good exercise and good for the planet, but it can be dangerous. A bicycle accident in Phoenix can result in unexpected medical expenses, catastrophic injuries, and in some cases, death.
If you or someone you love were hurt in a bicycle accident in the Phoenix area, schedule your free case review with the lawyers at Hastings & Hastings to learn more about what valuable legal rights you may have.
We Are Your Trusted Phoenix Bike Accident Law Firm
When it comes to bicycle accidents, most of the time negligent motor vehicle drivers are at fault. This is due in part to their lack of awareness of their surroundings. They simply don't look out for other people that share the same roadways. If you have been in a bicycle accident, you should call the police to file an official report of the accident and then seek medical help you need right away! After you have been seen by a doctor, you should start searching for professional legal advice. Hiring an experienced Phoenix bicycle accident lawyer as quickly as possible will help preserve your right to be compensated for your injuries.
At Hastings and Hastings, we have been helping people seek justice for over 40 years. Our team of professionals is proud to serve the entire state of Arizona, including the Phoenix metro area, the East Valley, Lake Havasu and more. If you have been injured due to a negligent driver, it is time to give us a call. It is important to seek legal help quickly because over time your case may be harder to prove. Let us collect the evidence you need to win your case and get the compensation you deserve!
If you have medical bills and lost wages due to a bicycle accident, give us a call at (480) 706-1100. You can also reach us online by submitting a free case evaluation. We will contact you directly and you will speak to a licensed lawyer free of charge. Your first consultation will be completely free and always with a licensed attorney. You won't have to pay anything out of pocket for having your case reviewed.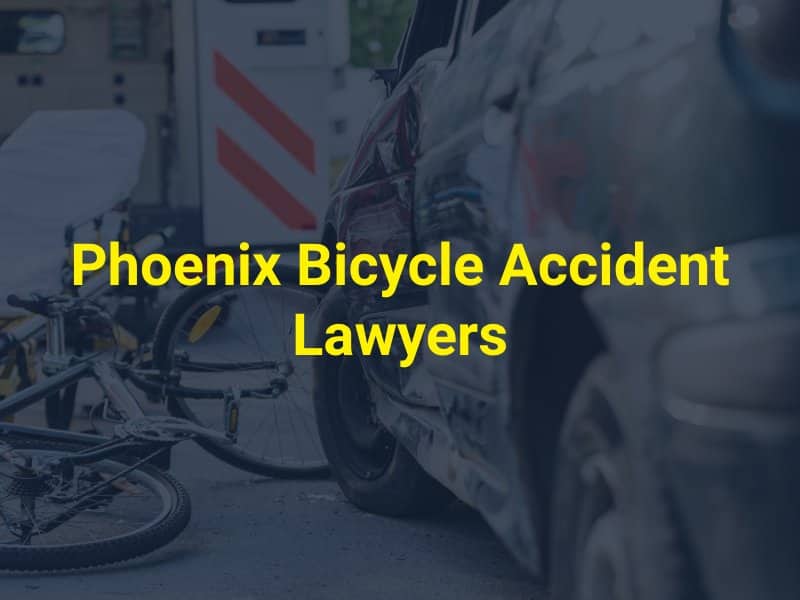 What Are the Most Common Causes of Bicycle Accidents in Phoenix?
So, what causes bicycle accidents in a city with so much bicycle infrastructure? The truth is that there are several things that often lead to such devastating accidents:
Hit and runs
Vehicle drivers who did not stop or yield as required by street signs or lights
Drivers changing lanes without carefully checking to ensure that it is safe to do so
Drivers who are distracted, such as texting
Drivers who are under the influence of drugs or alcohol
Drivers who stop suddenly
Drivers who tailgate bicyclists
Bicycle defects
A vehicle driving in the bike lane
Speeding
A driver or bicyclist failing to maintain the right of way as required
Other Hazards for Bicyclists
Distracted Drivers
The most common cause of bike and pedestrian injuries is distracted driving. When drivers are not paying attention to the road bad things can happen to good people! Many drivers are not aware of their surroundings because they are texting and driving. Some are even busy putting on makeup or eating in the car. Each of these actions can turn deadly at a moment's notice.
Intoxicated Drivers
Drivers who are intoxicated can cause serious harm and death to anyone walking or riding a bike. While it is illegal to get behind the wheel while intoxicated, that doesn't stop some people. This is a serious issue that many states have to deal with, including Arizona. If you or your loved one has been injured by an intoxicated driver, you have the right to seek compensation.
Reckless Drivers
Many people love to bike and run in their neighborhoods. But when a reckless driver is speeding in the area, things can turn ugly fast. Reckless drivers have hurt or killed many people in the state of Arizona over the years. It is your right to seek legal advice if you have been the victim of a reckless driver.
What Should You Do After a Bicycle Accident in Phoenix?
Depending on the severity of your injuries, there are some things you can do to help protect your potential bicycle accident claim. Of course, the number one concern in this moment is your health and safety. So, above anything else that you read next, make sure that 911 is called and that you receive medical care as soon as possible even if you don't feel like you need it. Internal injuries can be sneaky. Sometimes, you can feel as if you're completely fine. Yet, that's only because there's an adrenaline rushing through you. You could have internal injuries and have few to no symptoms until it's too late. That's why it is crucial to get medical care right away.
If you're involved in a bicycle accident in Phoenix, you should:
Depending on the severity of your injuries, don't move around. You certainly don't want to make any head, neck, or spine injuries worse. Of course, if you have road rash or something you believe is minor, then take photos of the injuries of all parties along with the scene, your bicycle, and any damage to the vehicle or other property involved.
Call 911. The police will come out to complete an accident report. This is crucial even if you're not seriously injured. You can get emergency medical care at this time or see your urgent care provider as soon as you can to ensure that you don't have injuries that need to be addressed.
Do not apologize to anyone involved in the accident or to the police. While we are generally raised to say, "I'm sorry," even if it's not our fault that an accident occurred, doing so can be taken as a sign of fault in these sorts of accidents. You can ask if the other party is okay, but do not offer an apology.
Get witness information and driver information. This information can be vital for your bicycle accident claim. So, if possible, get witness contact information. If the driver is hostile, that information can be obtained from the police report.
Do not get any of your equipment replaced or fixed. Keep it with you until you talk with your bicycle accident attorney. Also, do not wash the clothing you had on during the accident until you speak with your lawyer.
Call Hastings & Hastings immediately to schedule your free case evaluation.
What Are the Most Common Injuries in a Bike Accident?
Cyclists are at serious risk of injury because of their lack of protection if they are hit by a vehicle. The injuries that they may sustain can be extremely serious in nature regardless of whether the vehicle was traveling at a slower speed than the posted speed limit. Some of the most common injuries of Phoenix bicycle injuries include:
Spinal cord injury
Head trauma
Road rash
Burns
Broken bones
Lacerations
Internal injuries
Neck injuries
Soft tissue injuries
Wrongful death
If you or someone you love were hurt or killed in a bike accident, schedule your free case review with our Phoenix bicycle accident attorneys now.
Wrongful Death and Bicycle Accidents
Some bicycle accidents in the Phoenix area result in the death of the cyclist, leaving the family without their loved one, a huge pile of unexpected medical bills, and lost income. If you lost your loved one due to a bicycle accident, you only have a limited amount of time to file your claim in the State of Arizona. Don't wait. Schedule your free case review immediately with the experienced bicycle accident attorneys of Hastings & Hastings now. We're here to help.
Who Is Responsible for a Bicycle Accident in Phoenix?
Determining who is responsible for the bicycle accident depends on several factors. One would be how many parties were involved in the bicycle accident. Each party's actions would need to be measured and compared to the State's definition of comparative negligence. That is, how much responsibility did each party provide into causing the accident?
To learn more about negligence and how it is proven, schedule your free consultation with Hastings & Hastings.
Why Hire a Phoenix Bicycle Accident Attorney?
The experienced bicycle accident attorneys are here to make dealing with your claim easier. Your job is to rest and recover from your accident. The job of your lawyer is to handle the insurance company and make sure that they treat you fairly.
At Hastings and Hastings, we have been serving Arizona for over 40 years, representing injured victims and their families by battling the insurance companies to make sure you get all the compensation you deserve. At the end of your case, our discount fee puts more money in your pocket, allowing you to take care of what matters most: your health and your loved ones. If you've lost a loved one due to someone else's recklessness, don't wait, call today at (480) 706-1100 or contact us online.