According to the U.S. Bureau of Labor Statistics (BLS), close to 60,000 workers in Phoenix were injured on the job in 2021 in a non-fatal manner. Yet, just because a workplace injury is nonfatal doesn't mean that it's something that's easy to recover from. Workplace injuries can cause disability, ongoing pain and suffering, and unexpected expenses.
If you suffered a workplace injury in Phoenix or the surrounding area, schedule a free case evaluation with the experienced work injury attorneys at Hastings & Hastings to learn about your potential legal options and rights. Our Phoenix personal injury lawyers are proud of our history of helping our clients get the help and compensation they deserve and need.
Why Work With Hastings & Hastings?
At Hastings & Hastings, our team has over 90 years of combined expertise in assisting workers obtain the compensation they deserve and returning to their jobs. Our team of committed personal injury lawyers in Phoenix is dedicated to helping you recover and resume your normal life. Remember that taking prompt action is crucial to maximizing your accident benefits. Delaying is not advisable, so make the call today.
Your initial consultation with Hastings & Hastings will always be conducted by an experienced work injury lawyer, never a paralegal or salesperson. It's important to seek advice from a licensed attorney as only they can provide you with legal guidance. Don't settle for anything less. Reach out to us today at 480-706-1100, or send a message through our contact form and we will get in touch with you.
What is Provided to Injured Workers by Workers' Compensation?
Workers' compensation provides several benefits if you are hurt on the job, including:
Medical care, including emergency care, hospital care, and on-going medical care.
Lost wages averaged at your monthly wage if you miss more than seven days of work.
Disability payments, both permanent and temporary, if a doctor authorizes it based on statutory average earnings.
To determine your average monthly wage, you'll need to consider the following factors:
In general, the wage benefits in Arizona amount to two-thirds of your average monthly wage, subject to the maximum set by law. 
Supportive Medical Maintenance Benefits
You may also be entitled to supportive medical maintenance benefits in some cases.
In Arizona, when an injured worker is receiving workers' compensation benefits, their treating physician may determine that although they no longer need active care, they may still require continuing supportive care to ensure their condition remains stationary. This essentially means that the injured worker has reached the maximum level of medical improvement, but additional care is necessary to maintain their current state of health.
This supportive care provides essential services like pain management, prescription medications, and therapies to help the worker stay at their best possible condition. Supportive care is usually required for severe or chronic injuries that are unlikely to improve significantly over time.
For a worker to receive supportive medical maintenance benefits, it is important that their physician documents the need for this type of ongoing care. The doctor will outline the required supportive care in a detailed medical report, which will be submitted to the insurance carrier. The carrier will then issue a 103 Notice of Supportive Medical Maintenance Benefits.
Temporary Partial Disability Benefits
Sometimes, work injuries don't completely prevent you from working, but you still need some financial support during your recovery. In such cases, Arizona workers' comp rules provide temporary partial disability benefits (TPD) to employees who can do some work under the supervision of a doctor.
These TPD benefits can help bridge the gap between your earnings during the limited work capacity and your average monthly wage. 
Permanent Disability Benefits
In some unfortunate cases, work-related injuries may lead to permanent disabilities that prevent you from returning to your regular work duties. Once it is determined that your injury is permanent and not likely to improve further, you may be eligible for permanent disability benefits.
Vocational Rehabilitation Assistance 
In instances where an injured worker is unable to resume their regular work, they may qualify for vocational rehabilitation assistance. This program falls under the purview of the ICA Special Fund Division and is designed to provide support and resources for eligible employees seeking to find new employment or retrain for a different occupation.
Vocational rehabilitation programs usually involve a combination of counseling, training, job placement assistance, and other services tailored to an individual's needs and abilities. These programs aim to help workers develop new skills, identify suitable work opportunities, and reintegrate into the labor force in a meaningful and sustainable way.
It's important to note that engaging in vocational rehabilitation or retraining programs is optional. Declining to participate in these services will not impact an injured worker's eligibility for workers' compensation benefits.
Disputing Denied Claims
In some cases, insurance companies may deny workers' compensation claims for various reasons, such as insufficient medical evidence or disagreements over whether the injury or illness is work-related. If you find your claim is denied or you disagree with the amount of benefits you are receiving, you have the right to challenge the decision through an appeals process.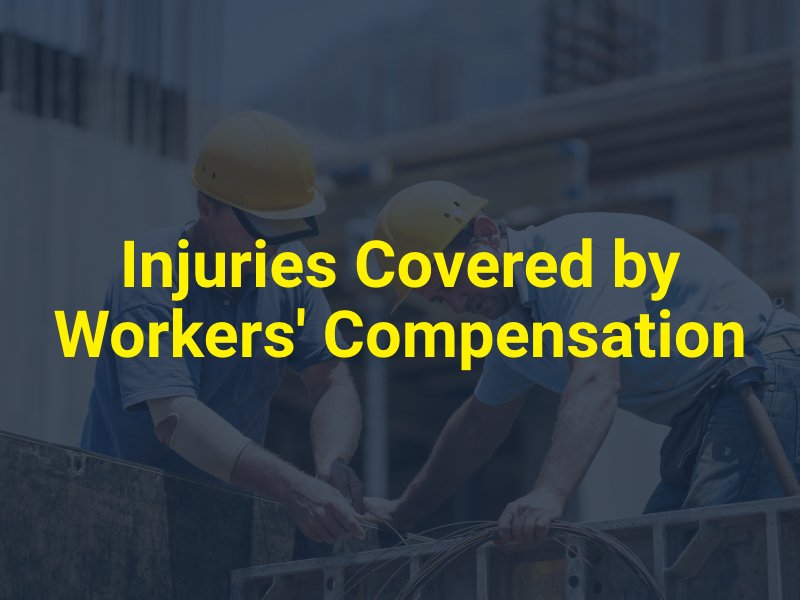 Common Phoenix Workplace Injuries Covered by Workers' Compensation
Workers' compensation is designed to take care of employees who are injured or made ill because of workplace conditions. Some of the more common workplace injuries and illnesses include:
Being hit by a falling object
Falling from ladders or scaffolding
Crushing injuries
Electrical burns
Knee injuries
Repetitive stress injuries
Vehicle injuries
Workplace violence
Chemical exposure
Cancer
Third-Party Liability in Arizona Work Injury Cases
In cases involving serious injury, workers' compensation benefits may not provide adequate compensation. While you are generally unable to file a lawsuit against your employer, if another party or entity is responsible for the injury, you may be eligible to file a third-party work injury claim. Responsible third parties can include:
Other drivers – if you were involved in a motor vehicle collision on the job
Property owners – if, for instance, your workspace is rented and a dangerous condition was present
Product manufacturers – if a defective product or tool led to your injury
Contractor – if someone from another company created a dangerous condition or caused your injury. This is especially common in construction site accidents.
What Should You Do If You Suffer from a Workplace Injury?
If you're injured at work, take the following the steps:
Let your manager know or let HR know right away. An accident report and a workers' compensation claim need to be completed as soon as possible.
If necessary, call 911 for immediate medical care and to get a formal accident report. This can be a legal necessity in many instances, such as in the case of workplace violence, crushing injuries, and vehicle injuries.
Contact ADOSH even if your employer said they will do it. If your employer has three or more employees and you went to the hospital, your employer is required to report the accident to the Arizona Division of Occupational Safety and Health.
Schedule a free consultation with Hastings & Hastings experienced Phoenix workplace injury lawyers.
As someone who was hurt on the job, you may have more than one option. While you do have the right to file a workers' compensation claim, you may have the right to file a lawsuit if there is a third party who was responsible for your illness or injury. However, this largely depends on the circumstances of your claim.
To learn more, schedule a free case evaluation with Hastings & Hastings now.
How is Workers' Comp Calculated?
For workers' compensation benefits, the amount you receive in each check is based on your Average Monthly Wage (AMW). Your AMW is determined by taking your total earnings for the past year and dividing it by the number of months worked. 
This calculation is crucial since it directly impacts the compensation you'll receive in the event of a workplace injury or illness. 
Maximum Monthly Payment Increase in 2023
The Industrial Commission of Arizona (ICA) is a regulatory body responsible for the management and enforcement of workers' compensation laws within the state. One of the many duties of the ICA is to set an annual statutory maximum average monthly wage amount. This maximum amount is subject to increase each year based on inflation rates, ensuring that workers' compensation benefits remain in line with the ever-changing cost of living.
Starting on January 1, 2023, the maximum monthly payment for workers' compensation benefits in Arizona increased by 4.5% to $5,393.37. This change will remain in effect until December 31, 2023. This substantial increase is the highest experienced in the past decade, exceeding the previous maximum set in 2011 by a total of 4.2%. This increase will have a significant impact on Arizona workers who are receiving workers' compensation benefits, allowing them to more effectively meet their financial needs during their recovery.
Why is This Increase Important for Arizona workers?
This increase in workers' compensation benefits marks a significant win for injured employees in Arizona. With the rising cost of living, particularly in major cities like Phoenix and Tucson, it's crucial for individuals on workers' comp to have their benefits reflect these changes in living expenses. The increase in maximum benefits means that injured workers can maintain financial stability while they focus on recovery and reintegration into the workforce.
Contact Our Phoenix Workplace Injuries Attorneys
While Phoenix workplace injuries can seem straightforward, they're not always easy to get through. Sometimes, your employer or even the workers' compensation insurance company will look for a reason to pay out as little as possible or outright deny your claim. Get the help that you need for your workplace injury by scheduling your free consultation with Hastings & Hastings now.