Why Hire Hastings & Hastings?
If you've been injured in a Phoenix car accident caused by someone else's negligence, it's important that you speak with an experienced personal injury attorney as soon as possible about your legal rights and options moving forward. Here's why you should work with Hastings and Hastings:
We Have the Experience You Need
When it comes to choosing a law firm, experience should be one of your top criteria. The reason is simple – an experienced lawyer knows the ins and outs of the legal system and is more likely to get you the outcome you deserve.
At our firm, we have more than 90 years of combined experience handling personal injury cases. We have also been dedicated to helping accident victims across Arizona for over 40 years. This means that when you hire us, you can rest assured knowing that your case is in good hands.
You Will Meet with an Attorney, Not a Paralegal or Salesperson
Many law firms will try to pass you off to a paralegal or salesperson during the initial consultation. This is not only misleading, but it can also jeopardize your case if you decide to hire them. That's because only an attorney is licensed to practice law and give legal advice.
So, if you want to know if you have a case, make sure to ask if you will be meeting with an accident attorney during the consultation. At our firm, we believe that every potential client deserves to meet with an attorney so they can get the answers they need about their case.
We Have Convenient Locations Across the Valley
Our firm has 10 offices across the Valley, which means we are conveniently located no matter where you live. If you can't come to us, we will send a licensed attorney to come to you – whether you are at the hospital or your home.
We Offer Free Case Evaluations
When it comes to hiring a lawyer, cost is always a concern. Many people avoid hiring an attorney because they think they can't afford it, but that's not always the case. At our firm, we offer free case evaluations so that potential clients can find out about their legal options without having to worry about how much it will cost. During your free evaluation, one of our experienced car accident attorneys will sit down with you and review the facts of your case at no cost or obligation on your part.
We Have Recovered Hundreds of Millions of Dollars for Our Clients
Over the years, we have recovered hundreds of millions of dollars for our clients through settlements and verdicts, and we are ready to put our experience and resources to work for you as well.
Contact the discount accident lawyers at Hastings and Hastings today to schedule a free consultation.

What To Do After a Phoenix Car Accident
The first thing to do if you've been in an auto accident is to seek medical attention. This is your number one priority following any car, truck or motorcycle accident.  After an accident, your body is flooded with adrenaline which helps to disguise the pain, so you may feel fine immediately after a car crash.  It is in your best interest to seek medical attention immediately to check for injuries.
Next, you need to call the police and file a report, as well as collect as much information you can from everyone at the scene.  You should take photographs of your vehicle, the other vehicle, and of the scene of the accident if it is safe to take such photos.  This valuable evidence helps preserve your claim and protect your rights.  You should also seek to obtain the other driver's information, such as driver's license, license plates, and insurance policies.  It is also important to keep any and all medical records you receive for the injuries you sustained in your car accident. Calling an experienced personal injury attorney at Hastings and Hastings can help you navigate this difficult time, and make sure valuable evidence is not lost or destroyed.
If you've been in a car accident or motorcycle accident in Phoenix, Chandler, Mesa, Gilbert, Glendale, Peoria, Scottsdale, Casa Grande or anywhere in Arizona, you may need to file a personal injury claim to recover medical costs and other expenses related to the incident. You may not even realize you've been injured until days after the accident occurs. Insurance companies want to pay you as little as possible for your injury claims, and fighting them yourself usually does not result in maximum compensation. Hiring an experienced and aggressive law firm who only fights for accident victims will ensure you get all of the compensation you deserve.  When your case settles, our Discount Fee puts more money in your pocket.  That's the Hastings and Hastings difference.
Your Personal Injury Claim: Steps To Follow After Your Car Accident
No one wants to be in an accident. They usually happen fast and without warning.  Many victims are in shock, and when you're not thinking clearly, it can be easy to make simple mistakes.  At Hastings and Hastings, we have seen virtually everything in our 40 years of serving Arizona accident victims, and we do not want you to make the same mistakes we have seen others make.
1. Always Call the Police Following an Accident
When the police arrive at the scene, they create an official report that preserves valuable evidence of your car accident and injury claim. This report is one of the most basic pieces of evidence in a personal injury claim. You may feel confused at the scene and the other party may not want to involve the police, but it is always the best idea to call 911 and have an official report made. The police can also help summon medical attention. The officers are experienced in looking for the common signs of fault in an accident, and will typically ticket or cite the at-fault driver. Often, police in Arizona are wearing cameras that can also preserve valuable evidence of your injury and property damage claims.
Bottom Line: Always call the police following any car, truck or motorcycle accident to create an official report to document your accident.
2. Always Seek Medical Treatment Following an Accident
When you are in shock, it's hard to realize you are in shock, let alone feel the full extent of what has happened to your body following an accident. Seeking proper medical care as quickly as possible after an accident is essential for both your health and a your personal injury claim.
Bottom Line: Always seek medical treatment following a Phoenix car accident.
3. Do Not Post About the Car Accident on Your Social Media, But Do Take Photographs at the Scene
Posting about your life on social media is commonplace in our world today.  You may feel protected because your accounts are set to private. However, once you've been in a car, motorcycle, or truck accident, insurance companies can gain access to your social media accounts, including your private posts, as they are still considered public under the law. No matter how harmless the post may seem to you, it's essential that you do not post anything about your car accident on social media. However, it is important to take photos at the scene of your accident to help preserve valuable evidence for your claim, just do not post these photos on your social media.
Bottom Line: Do not post about your car accident on Facebook, Twitter, Instagram, or any other social media channel. Try to take photographs on your phone if it safe to do so, and only share them with your attorney.
4. Consult an Experienced, Reputable Personal Injury Attorney at Hastings and Hastings
Consulting a personal injury attorney in Phoenix after an auto accident is the best way to successfully file and win a personal injury case. You've been through enough stress with the accident and everything that has followed. Our team of personal injury lawyers have over 90 years of combined experienced. We have been serving Arizona for over 40 years and fighting aggressively for accident victims just like you. Having someone you trust on your side removes the stress and ensures you have the best chance of getting the compensation you deserve.
At Hastings and Hastings, helping accident injury victims is all we do.  Your initial consultation is always with an experienced, Arizona licensed attorney. Call our law firm today for a free consultation to see if you have a case. When your case settles, our discount fee puts more money in your pocket. Most car accident attorneys charge 33.3%-45% of your settlement, which we don't think is fair. Don't settle for anything less: call Hastings and Hastings today at 480-706-1100 if you have been injured in an accident.
Time Limit to File a Claim in Arizona
If you've been injured in a Phoenix car accident, it's important to be aware of the time limit for filing a claim in Arizona. In most cases, you will have two years from the date of the accident to take legal action.
However, there are some situations in which the deadline may be extended. For example, if the injured person was under 18 years old at the time, the statute of limitations may be not being to run until they turn 18. 
Alternatively, in some cases, the statute of limitations may be reduced to a mere few months. If you need to file a claim against a public entity like the state, city, or state agency, you have 180 days (about 6 months) to do so. 
If you're not sure whether an exception applies or how much time you have left to take action, speak with an experienced Phoenix car accident attorney today.
If you've been injured in a car accident and are considering taking legal action, it's important to call as soon as possible. The longer you wait to file a claim, the harder it can be to collect evidence and identify witnesses that can help prove your case, so don't wait. 
Additionally, it often takes some time to gather all the evidence needed to build a strong case. This includes things like medical records, police reports, witness statements, and more. The sooner you start working on your case, the easier it will be to get everything together before the deadline passes.
Once the statute of limitations expires, you will no longer be able to file a claim seeking compensation for your injuries. While two years may seem like plenty of time, it can go by quickly, especially when you're dealing with injuries and other aftermath of the car accident.
Dealing With Insurance Companies
While a personal injury settlement is separate than a property damage settlement (fixing your car), they are very much related. Getting a proper estimate and returning your vehicle to a pre-accident state is essential to demonstrate how much true damage was done to a vehicle. This also aids in showing how you were injured, and the extent of your injuries. Insurance companies often "low ball" a client's property damage in an effort to try to minimize and even eliminate a client's personal injury claim. This is why, at Hastings and Hastings, we always recommend that you speak to an attorney before dealing with any insurance company, including your own.
Who is Liable For My Phoenix Car Accident?
If you've been in a car accident, you may be wondering who is liable for the damages. The answer to this question depends on many factors. The following are some of the parties that could be liable for a car accident:
Other Driver Is At Fault
If another driver caused your accident, their insurance company should cover the damages. In some cases, the other driver may not have insurance or their insurance may not be enough to cover the damages.
If this is the case, you may need to file a lawsuit against the other driver to get the money you deserve. You should also check your own insurance policy to see if you have uninsured/underinsured motorist coverage, which would kick in if the other driver doesn't have enough insurance to cover your damages.
You're Partially At Fault
In some cases, both drivers may be found at fault for an accident. In Arizona, this situation is governed by something called comparative negligence.
For example, let's say that you were hit by a drunk driver in an intersection, but you also ran a red light. In this case, you would likely be found partially at fault for the accident because you were not paying attention and ran a red light.
However, the other driver would also be found at fault because they were drinking and driving. The amount of money you can recover from the other driver will be reduced by the percentage that you are at fault. So, if you are 20% at fault and the total damages are $10,000, you can only recover $8,000 – 80% – from the other driver.
Manufacturer Is At Fault
In some cases, an accident may be caused by a defective part. For example, if your brakes fail and you rear-end another car, it's possible that the brake manufacturer is at fault for the accident. If this is the case, you can file a product liability lawsuit against the manufacturer to recover damages.
Recovering Compensation For My Injury
Here are some of the most common types of compensation you may be entitled to after a car accident:
Medical Expenses
One of the main types of compensation you can recover after a car accident is medical expenses. This includes both past and future expenses related to your injuries. Your medical expenses may include hospitalization, surgery, medication, physical therapy, and any other treatment recommended by your doctor.
If your injuries are expected to have long-term effects, your lawyer will also take into account long-term future medical costs when negotiating with the insurance company.
Lost Income
If you miss time from work due to your injuries, you may be able to recover lost income as part of your compensation. This includes not only wages lost while you are out of work but also any reduction in earnings capacity due to long-term effects of your injuries.
For example, if you can no longer work full-time or perform the same job duties as before the car accident, you may be able to recover damages for lost earning capacity.
Out-of-Pocket Expenses
In addition to medical expenses and lost income, there are other out-of-pocket expenses that can be included in your compensation. These may include the cost of renting a car while yours is being repaired, childcare expenses while you are receiving medical treatment, and help around the house if you are unable to perform all your usual activities.
If any property was damaged or destroyed in the accident, you may also be able to recover the cost of replacing it.
Pain and Suffering
Finally, if you file a personal injury claim, you may also be able to recover damages for pain and suffering caused by your injuries. This type of damage is intended to compensate you for the physical and emotional anguish caused by the accident, which is often still felt long after the accident is over. Some examples of pain and suffering after a car accident include:
Long-term disability

Depression

Mental anguish

PTSD

And more
Documentation Is Important
Documentation is important because it provides evidence of the injuries you sustained in the accident. This evidence can be used to support your claim for damages. For example, if you go to the emergency room after the accident, the doctors will document your injuries in your medical records. These records can then be used to show the severity of your injuries and the treatment you required.
If you wait to seek medical treatment, it may be more difficult to prove that your injuries were caused by the accident. Therefore, it's important to see a doctor as soon as possible after the accident. In addition to medical records, other forms of documentation that can be used to support your claim include police reports, witness statements, and photographs of the scene of the accident and your injuries.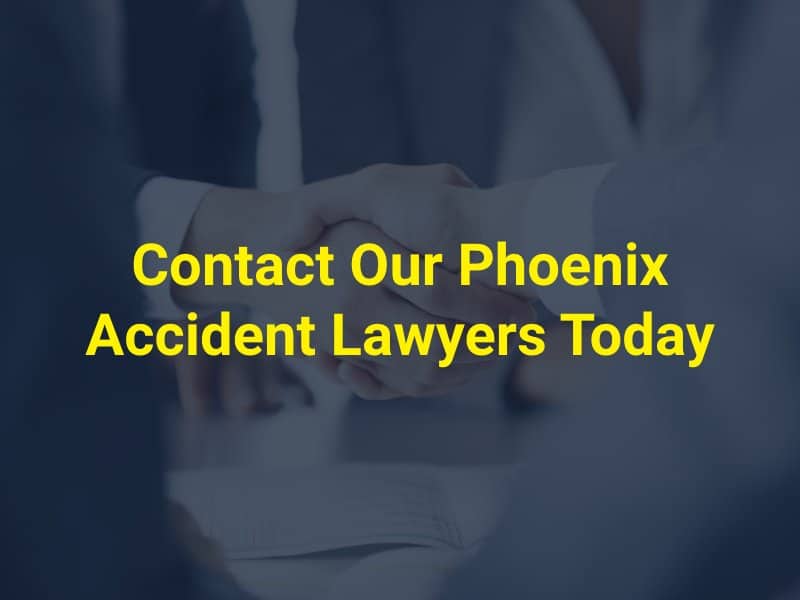 Our Phoenix Car Accident & Injury Attorneys Can Help
At Hastings and Hastings we understand that car accidents can cause all types of injuries. These injuries can range from neck and back pain, to much more severe and permanent injuries, or in the worst case — a fatality. Hastings and Hastings offers over 90 years of combined legal experience in handling all types of accident injuries and we urge you to call now to schedule an appointment to meet with an experienced Phoenix car accident attorney.