In the days and weeks after a car accident in Arizona, you may be dealing with serious injuries, ongoing medical treatments, and significant pain. While you're struggling to recover, it's difficult to take on insurance companies who don't have your best interests at heart but instead operate with the goal of minimizing payouts and maximizing premiums. That's why the attorneys at Hastings & Hastings PC in Glendale have a decades-long reputation for representing clients who've been injured in car accidents due to the negligence or recklessness of another driver. Over 121,000 car accidents occurred in Arizona in 2021 alone, and with more people back on the roads after the end of pandemic closures, car accident numbers are on the rise.
If you or a family member have been injured in a car accident in Glendale or the surrounding area, you deserve representation by a Phoenix personal injury legal team with the skills and resources needed to maximize your chance of recovering economic and non-economic damages. Call Hastings & Hastings PC today for a free consultation.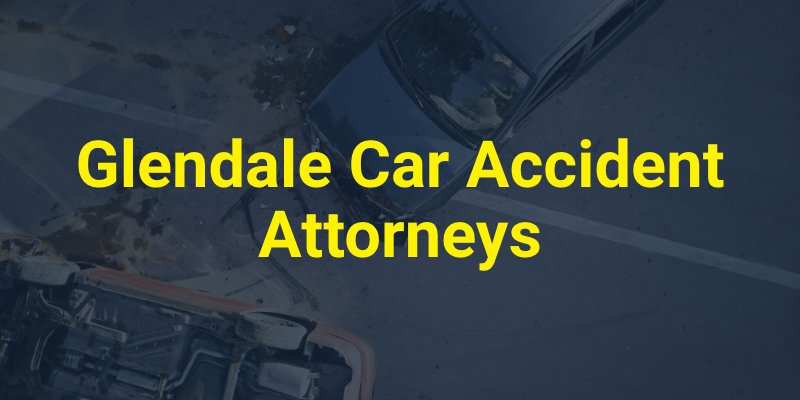 Why Hire Hastings & Hastings For Your Car Accident Case?
Hiring Hastings & Hastings for your car accident case offers several undeniable benefits. Here's why you should work with us:
We boast over 90 years of combined legal experience, underlining our depth of knowledge in personal injury law, which is pivotal when dealing with complex car accident cases.

We've shown unwavering dedication to helping accident victims across Arizona for more than four decades, always assuring discounted fees. This shows our commitment not just to justice but also to ensuring that you retain as much of your settlement as possible.

With our firm's ten office locations sprawled throughout Arizona, there is a conveniently accessible one for you. 

We have recovered millions of dollars on behalf of our clients, proving that we can successfully advocate for our clients and what they deserve. 
If you've experienced a car accident and need help filing a claim, we're here for you.
How an Attorney Can Help You With a Car Accident Case
A car accident lawyer can be incredibly helpful in numerous ways. They step in and shoulder the heavy burden of legal procedures so that you can focus solely on your recovery. Here are a few specific steps that they take:
Evaluating Your Claim: A lawyer starts by evaluating your case to determine if it's worthwhile to pursue legal action.
Gathering Evidence: This involves obtaining police reports, medical records, witness statements, or any other pieces of crucial information needed to build a solid case against the defendant.
Negotiating with Insurance Companies: Car accident lawyers have experience dealing with insurance adjusters and the tactics they use to try to cheat you out of money that you may be owed. They will know when settlement offers are fair and when pushback is necessary for better deals.
Calculating Damages: A lawyer can assist in accurately determining the total cost of your damages which include medical bills, lost wages, property damage, and non-economic damages like pain and suffering.
Representing You In Court: If your case goes to trial, an attorney presents compelling arguments on your behalf before a judge or jury, explaining why you're entitled to compensation.
In essence, a car accident lawyer is your advocate throughout the entire process – from initial case evaluation to the end of your claim.
Most Common Causes of Car Accidents
Car accidents can occur for a variety of reasons. Here are some of the most common causes:
Distracted Driving: This happens when a driver's attention is diverted away from driving, usually due to activities like texting, eating, or talking on the phone. These distractions can significantly decrease the driver's ability to react quickly and safely.
Speeding: Traveling above the posted speed limit or driving too fast for current conditions often results in collisions as it reduces a driver's reaction time and increases the braking distance required upon encountering hazards.
Drunk Driving: Intoxication impairs the cognitive abilities necessary for safe driving including clear vision and precise coordination, among others, often leading to disastrous accidents.
Reckless Driving: This includes aggressive driving behaviors such as tailgating, frequent lane changes without signaling, or failing to yield the right of way.
Understanding the most common causes of accidents is the best way to ensure you're taking the appropriate precautions while on the road.
Common Injuries in Car Accidents
Car accidents can result in significant, serious, and even deadly injuries. Common injuries from car accidents in Arizona include:
Neck and back injuries
Spinal Cord injuries
Fractures
Internal damage
Burns
These and other injuries require medical treatment and time away from work. In some cases, they result in permanent disability or even death. If someone else was at fault in your accident, you need a Glendale accident attorney on your side.
Proving Liability in Arizona Car Accidents
If the negligence or recklessness of another driver, malfunctioning traffic lights, or a road in ill repair caused your accident, the insurance company of the person at fault is liable for your accident claim.
In order to prove someone else is liable for your injuries after a car accident, you typically need to establish their negligence. This process entails meeting four key elements:
Duty:

Show that the other driver had a legal duty of care towards you. In driving terms, this refers to an obligation all motorists are under – operating their vehicle responsibly and safely by adhering to state laws and traffic regulations.

Breach:

Demonstrate that they breached this duty of care through their actions or lack thereof – such as speeding, distracted driving, or ignoring traffic signals.

Causation:

You will then need to establish causation – demonstrating that it was this breach of duty that directly led to the accident.

Damages:

Lastly, you will need to show proof of damages suffered resulting from the other drifver's negligent behavior – these could range from physical injuries to property damage and even emotional injuries.
Providing evidence for each of these elements significantly increases your chances of proving liability and maximizing your potential compensation amounts in a car accident claim.
What Compensation Can You Gain for Damages After a Car Accident in Arizona?
Arizona considers two types of damages in car accident cases, economic and non-economic. If you were hurt in an accident, you deserve compensation for both types of damages. After showing liability in your car accident case, a diligent attorney understands how to carefully craft a demand letter, conduct strong negotiations, and argue on your behalf in court if required in order to help you gain the following compensation for your damages:
Medical expenses and any medical expenses you'll need for ongoing treatment related to your accident
Lost wages from missed time at work and any future missed workdays
Reduced income-earning capacity in cases of disability
Pain and suffering
Loss of consortium (lost ability to enjoy a close, physical relationship with a romantic partner and/or reduced ability to care for and support children)
Loss of quality of life
Arizona takes all damages seriously, both economic and non-economic. While compensation can't undo your injury, it can help you focus on your recovery with fewer financial worries.
What to Do After a Car Accident
It's difficult to remain calm and keep a clear head after the trauma of a car accident, but if you are well and able enough, and can remain clear-headed, the following steps can help to protect your physical and financial health in the days, weeks, and months following your accident:
If you are seriously injured, remain in place and wait for first responders to help you
If you are able to drive safely, move your vehicle to the shoulder of the road and out of the flow of traffic
Call 911 to report the accident
Provide reasonable aid or comfort to any other injured victims involved
Use your smartphone to collect the contact information of any other involved drivers and eye-witnesses
Snap photos of the vehicles, the accident scene, and any involved factors
Allow the paramedics to treat your injuries and transport you to the hospital
Undergo a full medical evaluation and inform your doctor of every symptom
Ask for detailed medical records regarding your injuries, recommended treatment, and future prognosis, and follow all recommendations
Request a copy of the accident report from the police
Call a Glendale car accident lawyer before speaking to insurance representatives
By protecting yourself after an accident, you can maximize your chances of recovering damages.
What is the Statute of Limitations for Car Accident Claims in Arizona?
The state of Arizona places limits on the amount of time after an accident that victims can make a claim for damages. In most cases, the statute of limitations for car accident claims in the state is two years from the date of the accident. This helps protect defendants from lengthy, ongoing threats of lawsuits and helps cases come to court while evidence is still available and eyewitness testimony remains fresh. If you wait too long to file your case, the court will dismiss it once you've exceeded the statute of limitations.
Some exceptions to this statute include:
For those who discover an injury later, the time limit begins on the day of discovery
Those who are underage during an accident have two years from their 18th birthday in which to file a claim.
While it's best to file a claim after you have a clear understanding of the physical and economic impacts of your accident, the sooner you file, the better the likelihood of a positive outcome for your case.
Why Choose Hastings & Hastings for Your Glendale Car Accident Lawyers?
Hastings & Hastings of Glendale, Arizona has represented car accident injury victims in the area for decades with a track record of success. We will investigate your case through the police report, medical records, traffic camera photos or videos, and eyewitness testimony. We may hire accident reconstruction specialists and other experts to prove liability in your case. Our Phoenix personal injury team in Glendale offers free evaluations and we work at discount rates on a contingency fee basis so you owe nothing upfront. Contact our firm today in Glendale, and let us put our decades of combined experience to work for you.