Car accidents are one of the most common causes of serious personal injuries in Arizona. According to the Arizona Department of Transportation's Crash Facts data, there were over 121,000 car accidents in 2021. While car accident numbers may have lowered during pandemic restrictions, more people are now on the road than ever in Gilbert and throughout the Phoenix area. If you or a family member have suffered injuries from a car accident, you're probably struggling with the overwhelming combination of pain, ongoing medical treatments, and mounting medical bills. That's why it's important to understand the significance of fighting for compensation for your damages during this time.
You shouldn't have to take on the complex legal system and powerful insurance companies alone. Let a Phoenix personal injury lawyer at Gilbert help. Private insurance carriers have profits as their goal and their business model depends on minimizing payouts while maximizing premiums. The Gilbert car accident lawyers at Hastings & Hastings PC are passionate about defending each client's rights to compensation after suffering injuries in a car accident—especially when someone else was at fault. Our long community history in the Gilbert area means our team has the experience, skills, and resources needed to defend your right to full compensation for your damages. Call or contact us today and we'll review your case at no charge to you.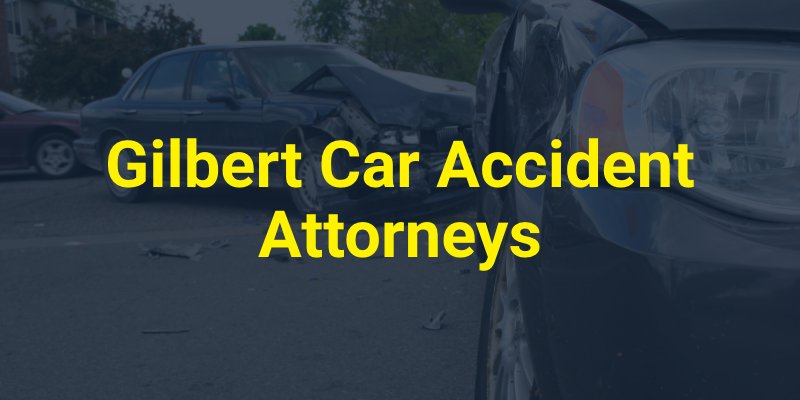 What Compensation Can I Get For a Car Accident Case in Arizona?
Arizona recognizes two types of damages that car accidents cause injured victims— economic and non-economic. When you're hurt in an accident, both kinds of damages have a negative impact on your life and you're owed compensation. An attorney from the Gilbert law firm of Hastings & Hastings will advocate aggressively for you while negotiating with the insurance company of the liable party for the compensation of the following damages:
Medical expenses and future medical expenses for any further treatments needed
Lost income from missed time at work and any future lost wages
Reduced future earning capacity in cases of grave or disabling injuries
Pain and suffering
Emotional anguish and PTSD
Loss of consortium or a lowered ability to enjoy a close physical relationship with a spouse or partner and reduced ability to support children and engage in activities with them
Diminished quality of life
Compensation for your damages cannot fix your injury, but it can help you access the best medical care and relieve your financial worries while you focus on healing and recovery.
How a Gilbert Car Accident Attorney Can Help
Having an attorney with a strong, positive reputation in Gilbert and the surrounding area increases your likelihood of gaining substantial compensation for your injuries. Your attorney will provide the following services:
Thoroughly examine the accident report to prove liability
Review any photo or video evidence
Conduct eyewitness interviews
Use experts to reconstruct the accident scene
Review medical records and billing
Use expert medical testimony if necessary to show the extent and impacts of your injuries
In the days after an accident, it can be challenging to navigate the legal system and deal with insurance companies while you're trying to focus on recovering from your injuries. You shouldn't have to take on this burden alone. Let a Gilbert personal injury lawyer at Hastings & Hastings, PC be a powerful voice for you.
Common Causes of Car Accidents
Understanding the common causes of car accidents is crucial, not only for practicing safe driving but also for discerning liability if you ever find yourself involved in a traffic incident. Some of the most common causes include:
Speeding
Exceeding the speed limit is one of the top contributors to car accidents. It reduces a driver's ability to navigate safely around curves or objects in the roadway, extends stopping distances, and makes collisions more severe.
Driving Under The Influence
Alcohol and drugs impair judgment, reaction times, coordination, and tracking ability—all essential for safe driving—greatly increasing the risk of an accident.
Texting And Driving 
Texting takes a driver's attention away from the road longer than most other distractions. Reading or sending a text could result in drivers failing to see signs, other vehicles, or even pedestrians – ultimately leading to serious crashes and fatalities.
Driver Fatigue 
Fatigued drivers experience diminished awareness and delayed response times similar to those who are under the influence. Clearly, the potential for making poor decisions increases when drowsy, causing serious safety risks on roads.
This is not an exhaustive list, as car accidents occur for many reasons.
Common Injuries in Arizona Car Accidents
Car accidents of all types cause blunt force trauma, damaging various parts of the body depending on the circumstances of the accident. Common injuries from car accidents include:
Neck injuries
Back injuries
Traumatic Brain Injury (TBI), ranging from mild concussions to catastrophic injuries
Bone fractures
Spinal cord damage
Fractures
Amputations
Burns
Scarring and permanent disfigurement
These are significant injuries requiring medical treatment and missed days of work. Long-term impacts can result from car accident injuries, including disability and death. When these injuries occur because of another party's negligence it's even more distressing for injury victims. A lawyer from the Gilbert law firm of Hastings & Hastings PC will use the law firm's decades of experience in car accident cases to investigate your case and defend your interests in order to maximize your chances for a substantial payout on your damages.
Proving Liability in Car Accident Cases
Arizona is NOT an at-fault state. That means in Gilbert and elsewhere in the state, it matters who caused the accident. The insurance company of the at-fault party must cover damages claims from an injured victim but often they try to deny claims and use other tactics to minimize the claim. In order to compel these companies to pay claims, the injured person must clearly show liability on the part of the other. Proving liability means showing the following:
That the at-fault party owed the injured victim and others on the road a duty of care, such as following traffic laws and avoiding distractions
That the at-fault party breached this duty of care through negligence or recklessness
That the breach directly caused the injury
That the injury caused economic and non-economic damages for the injured party
Potential Parties That Could Be Liable For a Car Accident
In a car accident, determining the responsible parties is vital for handling legal proceedings and insurance matters. Here are those who might be deemed liable:
The Driver
More often than not, the operator of the vehicle causing an accident due to negligent or reckless behavior—such as speeding, distraction, or driving under the influence—is considered liable.
The Employer
If an individual was participating in work-related tasks at the time of a crash (for example, a delivery truck driver), then their employer may be held accountable based on vicarious liability or negligent hiring. 
Manufacturer 
Occasionally, malfunctioning components of a vehicle contribute to a collision. In scenarios where equipment failure occurred due to no fault of any party involved in driving – perhaps due to faulty brakes or airbag failures – the manufacturer of the vehicle or its parts could be responsible. 
A Municipality or Government Entity
If road conditions, traffic signs, signals, lighting, and/or other infrastructure factors managed by a municipality contributed to an accident, the governing body responsible can be held liable for damages that result. This is often more challenging as it involves lawsuits against governmental bodies and requires different legal expertise. 
Regardless of who you believe was at fault, always speak with a personal injury lawyer as soon as possible to help you with your claim.
How Comparative Negligence Affects Your Recovery
Pure comparative negligence is a major factor when determining compensation in Arizona for accidents involving motor vehicles where you are partially at fault for causing the incident. According to this principle, you will still be eligible for damages even if your level of fault in the accident is as high as 99%. 
However, under pure comparative negligence rules, it's crucial to understand that the compensation awarded to you will be lessened according to your degree of fault. This reduction directly corresponds with your attributed percentage of blame.
"The defense of contributory negligence or of assumption of risk is in all cases a question of fact and shall at all times be left to the jury. If the jury applies either defense, the claimant's action is not barred, but the full damages shall be reduced in proportion to the relative degree of the claimant's fault which is a proximate cause of the injury or death, if any. There is no right to comparative negligence in favor of any claimant who has intentionally, wilfully or wantonly caused or contributed to the injury or wrongful death."
For example, if you're in an accident where your damages are $10,000 and it's determined that you bear 30% responsibility, your award will be reduced by 30% – so you would be entitled to $7,000.
How to Protect Yourself After a Car Accident
Depending on the severity of your injuries, you may have to simply remain in place after a car accident and wait for emergency services, but if you're mobile and your injuries allow, taking the following steps can help protect your physical health and financial future:
Move out of traffic to the shoulder of the road
Call 911 to report your accident
Render reasonable aid and comfort to any other victims
Collect the contact information of any other involved drivers and eyewitnesses
Use your phone to take photos of the other car(s) and the accident scene
Allow EMS to take you to the hospital
Tell a doctor about all of your injuries and symptoms
Follow all of the recommendations of the medical professionals and attend every appointment, treatment, and follow-up
Ask for detailed medical notes and copies of your bills
Avoid posting on social media
Request a copy of the accident report
Call Hastings & Hastings at the Gilbert office for a free consultation before speaking to insurance adjusters
Despite the chaos and trauma of an accident scene, by keeping a cool head and taking the above steps you're actually taking the first steps toward the best possible recovery.
Why Choose Us for Your Gilbert Car Accident Case?
A Phoenix personal injury lawyer can help with your car accident case. At Hastings & Hastings, PC, we are passionate about our belief in securing the best possible compensation for our injured clients. Our strong reputation and record of diligence and determination in representing the best interests of each client with individualized attention led to our track record of success. Call our Gilbert Arizona office today to make an appointment for a free case evaluation. Our contingency fee payment method means we only get paid when you do.