Car accidents are at best frustrating and at worst devastating. No matter the extent of a car accident's damage, every car accident has the potential to be very expensive. When vehicle and property damage is considered in combination with medical expenses, lost wages, and other injury costs, victims of car accidents often have significant claims for compensation in personal injury lawsuits.
Our team at Hastings and Hastings has handled a countless number of Mesa car accident cases in our more than 40 years in business. We're ready to assist you and your family today.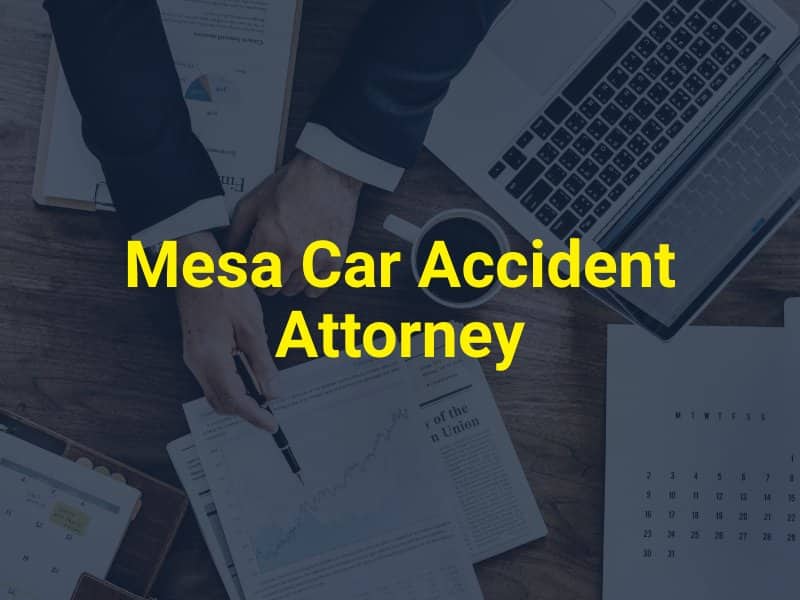 Why Choose Our Law Firm?
Hastings and Hastings is a personal injury law firm with deep roots in Mesa and the surrounding Arizona community. With significant experience, an extensive knowledge base, and a demonstrated commitment to our clients, we offer legal representation that exceeds the services offered by most personal injury law firms in the area. 
Discount Fees Put Our Clients First
Personal injury lawyers usually take cases on a percentage fee basis, meaning that no matter how much compensation is recovered on a plaintiff's behalf, the lawyer takes the same percentage – often, one third or 33 percent. While these fee arrangements have been standard for many years, the truth is that they put a lawyer's interest above the client's. At Hastings and Hastings, we're committed to putting our client's interests first and foremost in every respect – including fee arrangements. 
For that reason, we pioneered a new system that we call the Discount Fee arrangement. Our fee arrangement includes no flat percentage rate, and prioritizes ensuring that our clients keep as much of their own money as possible. However, a Discount Fee doesn't mean that you receive discount representation. Our clients receive top-notch legal work and the same type of zealous advocacy that they should expect to receive. 
The Discount Fee arrangement, unique to Hastings and Hastings, merely ensures that our clients' interests are put first – where they should always remain. 
We Don't Get Paid Unless You Do 
Most importantly, Discount Fees include our No Fee Promise, which ensures that we don't get paid unless you do. That means that being represented by Hastings and Hastings comes at no upfront cost at all. Our clients never have to worry about retainer fees, hourly rates, and expensive lawyer bills. If we don't obtain a settlement or a verdict from your case, we don't get paid. 
Experience Backed Up by Client Satisfaction
Our team has been representing Mesa car accident victims for more than 40 years, and our lawyers have more than 90 years of combined experience. In that time, we've won a countless number of settlements and verdicts for our clients and their families, and our track record is supported by our clients' support for our firm. On Google, Hastings and Hastings has more than 500 five-star reviews from verified past clients, and we have more than 600 handwritten testimonials to support the quality of our work. 
In short, you can rest assured that our team will work hard to receive the most important endorsement we can get – your satisfaction as our client. 
Serious Injuries from Car Accidents
Car accidents cause injuries of all types and which affect every part of the body – including mental and physical injuries. Frighteningly, some injuries which arise from car accidents don't manifest symptoms until a significant amount of time following the accident. For that reason, it is always essential that you seek medical attention as soon as possible after a car accident, even if you don't think you need to. 
Among the most serious types of injuries associated with car accidents include the following: 
Head injuries, including traumatic brain injuries

Injuries from entrapment, such as broken ribs 

Mental trauma, including post traumatic stress disorder

Broken bones and deep tissue wounds

Spinal cord injuries and paralysis 
Burns and serious skin wounds

Facial injuries and scars

Disfigurement, limb loss, and amputation
Each of these types of injuries presents a significant and lasting damage to a person's body that greatly affects their quality of life. The law accordingly affords car accident victims with the ability to recover compensation from the parties who caused these injuries, and victims should seek that compensation to the fullest amount possible. If you tragically lost a loved on in a car accident, contact our Mesa wrongful death attorneys.
Common Mesa Car Accident Causes
According to the Arizona Department of Transportation, there were more than 120,000 car crashes on Arizona roads and highways in 2021 alone. Among those, more than 35,000 caused injuries, and more than 1,000 caused deaths, with the others causing property damage. Those numbers are staggering, and as such, it's no surprise that car accident cases are among the most common types of personal injury lawsuits. 
While the factors that contribute to a car crash are wide-ranging and include weather, road conditions, and other factors beyond a driver's control, many accidents are caused by a driver's negligent or reckless behavior. 
The most common car accident causes which give rise to a personal injury lawsuit include the following: 
Distracted driving, including texting while driving, loud music, and too many passengers

Failure to maintain vehicle, such as tires or engine components causing a crash

Failure to follow traffic laws and regulations

Lack of attention to traffic conditions

Driving without proper training or knowledge of equipment, such as trailers or trucks

Lack of required vehicle safety components, such as lights or mirrors

Failure to use turn signals or brakes 

Speeding and dangerous driving habits
Who is Liable for Your Car Accident?
Car accidents are rarely straightforward, especially when it comes to determining who was at fault, and who is thus legally liable for causing the accident. Oftentimes, we think of lawsuits and legal disputes as a "winner takes all" event, with one side losing and one side winning – but in truth, most cases end somewhere in the middle.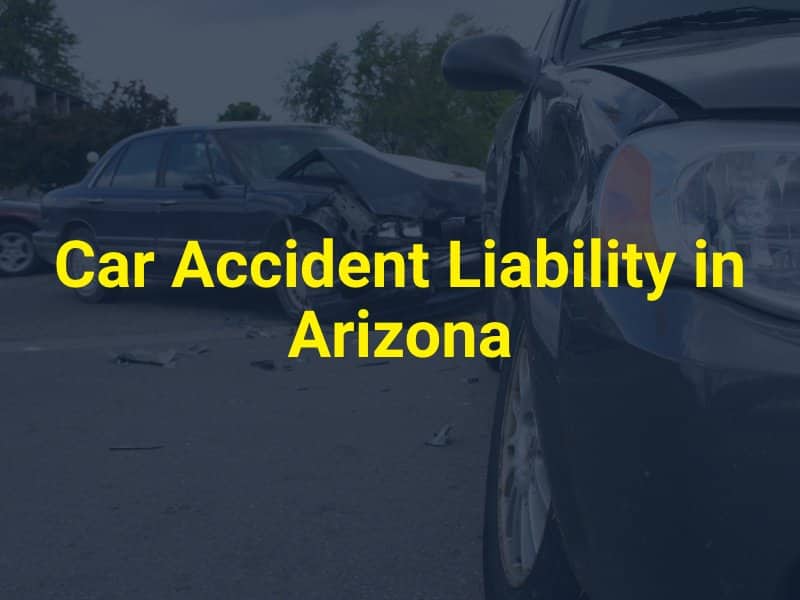 Arizona is a "Fault Based" Liability State
Importantly, though, Arizona is a "fault based" state when it comes to car accidents and car insurance. That means a victim of a car accident has the right to sue the person who caused their injuries, regardless of their own insurance status. In "no fault" states unlike Arizona, a person's own insurance company covers their personal injuries and property damage, no matter who caused the accident. Arizona's "fault based" status makes personal injury lawsuits more important for plaintiffs, who are accordingly entitled under the law to seek compensation for their injuries caused by an at fault driver. 
Comparative Negligence Laws in Arizona
But after a lawsuit is filed, proving who is at fault can be a complicated endeavor due to a different set of Arizona laws which establish a "comparative negligence" system. Comparative negligence accounts for the idea that one party is rarely 100 percent at fault for causing an accident. Arizona law thus recognizes that while it is possible for a plaintiff in a lawsuit to have contributed to an accident occurring, the plaintiff nonetheless should be allowed to recover for their injuries. 
Thus, the state's comparative negligence laws provide that when a plaintiff is responsible for an accident in some amount, their damages are reduced by that amount, which has to be determined by a jury. If a jury determines that a plaintiff was 15 percent negligent in causing an accident, which can be otherwise attributed to the defendant in 85 percent, then the plaintiff's damages award would be reduced by 15 percent. In short, comparative negligence rules are complicated, and an experienced Mesa car accident attorney can assist you in sorting out how they may impact your claim for compensation. 
But above all else, it's important to note that comparative negligence is not a complete bar to recovering compensation. In Arizona, even if a plaintiff's own actions contributed to an accident which was otherwise caused by a defendant's bad acts or omissions, that plaintiff can (and should) still seek and recover compensation.  
Types of Damages Available After a Car Accident
The law provides that a car accident victim can recover compensation in an amount that fully and fairly compensates them for the injuries they sustained due to the wrongful actions of another driver. As previously stated, these injuries can take many different forms and will depend greatly on the specific facts of each case. But in general, the types of damages available after a car accident include the following:
Medical bills and expenses 

Lost wages and loss of future earning potential 

Pain and suffering

Mental and emotional damages

Property damage, including damage to your vehicle

Insurance deductibles

Loss of consortium

Loss of enjoyment and quality of life 
Dealing with the Insurance Company
Drivers in Arizona are required to carry car insurance, and for that reason, it is almost certain that dealing with an insurance company is going to be part of being involved in a car accident. But as previously stated, Arizona is a "fault based" jurisdiction for car crashes – meaning that only the at-fault driver's insurance company is on the hook to pay for damages, and the other driver's insurance is completely off the hook. 
Never Speak to an Insurance Company Without a Lawyer
Thus, car insurance companies in Arizona are generally quick to assess liability, and where possible, they will look to avoid liability to save money. Keeping that in mind, you should always be suspicious and aware of an insurance company's intentions. Commonly, insurance company representatives will reach out to car accident victims to take a statement. These representatives may express sympathy, ask about your wellbeing, and seem to be generally concerned for you, but you should never provide a statement to an insurance company without consulting with a Mesa car accident lawyer. 
Insurance companies will frequently use a victim driver's statements against them to avoid paying a claim for liability. As soon as you are represented by counsel, it is unethical (and potentially illegal) for an insurance company to reach out to you directly. You should accordingly consult with an experienced Mesa car accident attorney as soon as possible after being involved in an accident, who can speak to the insurance company on your behalf and advocate for your interests effectively. 
How Long Will My Mesa Car Accident Settlement Take?
Speaking to a car accident lawyer may seem unattractive to you because you hate the idea of having to go to court. We understand that – going to court and being in front of a judge seems unappealing to most people.
But you might be surprised to learn that the vast majority of car accident lawsuits result in settlements without ever going to court – let alone going all the way to trial. In most car accident cases, an insurance company is the defendant, and insurance companies want to end lawsuits quickly, and at as little cost as possible. In many cases, the cost of settling – paying out a claim before going to trial – ends up being less than defending a case to trial. Insurance companies are accordingly eager to settle lawsuits, and obtaining a settlement often happens faster than many plaintiffs expect. 
We Negotiate Claims Aggressively for Our Clients 
However, merely receiving a settlement offer doesn't mean that it should be accepted. Our team at Hastings and Hastings understands that a car accident victim has the right to recover compensation that fully compensates the victim for his or her injuries. Because of our experience in these cases, we know when an insurance company brings a lowball offer versus when they're serious about making a deal. 
Our Mesa personal injury lawyers are prepared to use their experience to aggressively advocate for your interests – which includes negotiating settlements with insurance companies. In the event a settlement process isn't fruitful, we're equally prepared to take cases to trial. 
Schedule a Free Mesa Car Accident Consultation
Setting up a free consultation with a Mesa car accident lawyer from Hastings and Hastings is always offered at no cost and no risk. At your free consultation, one of our licensed Arizona car accident attorneys will listen to your story, take information about your case, and assess whether you have a valid claim for legal compensation. When you schedule a Hastings and Hastings consultation, we guarantee that you will speak with a fully licensed and experienced Arizona attorney in our office – not an outsourced customer service agent located somewhere far away. 
Our commitment to our clients demands that we put our clients first, and we make that commitment from the initial consultation all the way through the conclusion of a case. 
If our law firm is able to take your case, we'll enter a Discount Fee agreement and begin working hard on your behalf – along with our No Fee Promise. We only get paid if we're able to obtain compensation for you and your family. 
Contact Hastings and Hastings today to set up an appointment with a Mesa car accident lawyer on our team.