Accidents involving semi trucks and tractor trailers are uniquely dangerous due to the size of the vehicles involved. The average semi truck is several times larger than the average passenger car, and so when a semi truck collides with a passenger car, the damage is often devastating. For passengers inside those passenger cars, serious and life threatening injuries usually follow trucking accidents.
Fortunately, victims of trucking accidents may be able to seek compensation for their injuries through the legal system. The Mesa truck accident attorneys of Hastings & Hastings are here to help you navigate the process. Reach out today and schedule a free consultation.
Do I Need a Trucking Accident Lawyer? 
If you find yourself or a loved one involved in a truck accident, you should consult an attorney as soon as possible after the accident. Due to the types of parties involved and the extent of serious injuries often associated with trucking accidents, these cases are not ordinary personal injury cases. 
Trucking companies are large corporations with teams of lawyers and insurance companies who specialize in defending accident cases. By hiring an attorney who is experienced in dealing with trucking cases and trucking companies, you can be sure that your interests are being advocated for in the most effective way possible. 
Because semi trucks are so large, victims of accidents often suffer serious and life threatening injuries that are very costly for victims and their families. Trucking companies, their lawyers, and their insurance companies are sophisticated parties who will likely try to minimize their own liability by paying . An experienced Mesa truck accident attorney can ensure that you receive an amount of compensation that fully and fairly compensates you for the injuries you've suffered. 
Hastings and Hastings Can Help
Hastings and Hastings is a Mesa personal injury law firm with extensive experience in trucking accident cases. We understand the devastating and complicated nature of truck accidents, and our experience allows us to advocate for our clients in the most effective manner possible. We've been assisting accident victims in Arizona for more than 40 years, and we pride ourselves on putting our clients first. 
Our No Fee Promise 
We recognize that one of the most significant questions for anyone looking to hire an attorney is how much representation is going to cost. But did you know that the answer is zero dollars out of your pocket? At Hastings and Hastings, our No Fee Promise is a commitment to our clients that we don't get paid unless you do. That means no retainer fee, no billable hours, and no attorney bills. At the end of your case, if you haven't received a settlement or a verdict, you owe us nothing. We only get paid if we're able to obtain compensation on your behalf. 
Discount Fee Arrangements 
But how much will we get paid if we are able to obtain compensation on your behalf? The answer is as little as possible. Most personal injury law firms take anywhere between 30 and 50 percent of their clients' compensation as a flat rate agreed upon at the outset of the litigation. These arrangements put the lawyers' interests first, and often result in outsized overpayments. 
But at Hastings and Hastings, our commitment to putting our clients first led us to develop our Discount Fee arrangement, which is an innovation within the personal injury field. Under our Discount Fees, we charge our clients as little as possible, and in an amount that varies for each case. Under our arrangement, we're able to save our clients thousands of dollars compared to the industry standard fee arrangements. 
Experience Supported by Results
We've been representing trucking accident victims for more than 40 years. During that time, our Mesa personal injury lawyers have individually amassed more than 90 years of combined litigation experience. Our team has represented a countless number of accident victims, and we've won compensation for a countless number of satisfied clients. 
Our clients' satisfaction is evidenced by our online reviews. On Google, Hastings and Hastings has received more than 500 five-star reviews from actual, verified past clients. Otherwise, we've received more than 600 personal statements from happy clients indicating satisfaction with our team and our work. We pride ourselves on our reputation, which we believe speaks for itself. 
What Causes Truck Accidents in Mesa? 
Truck accidents are caused by a variety of factors. While human error – the most common cause of car accidents in Mesa – definitely plays a part, trucking accidents can also be caused by faulty or poorly maintained equipment. Because semi trucks endure such wear-and-tear, they are required to be inspected and maintained in accordance with federal regulatory guidelines. When these guidelines aren't followed, drivers are put at serious risk of harm. 
The most common causes of trucking accidents in Mesa include the following:
Inadequate rest periods, leading to fatigued drivers

Driver inattention

Failure to maintain brakes or other equipment

Negligent hiring or training of drivers

Dangerous driving in road conditions

Speeding due to strict delivery deadlines
Unfortunately for Mesa drivers and passengers, each of these causes is completely beyond the control of a trucking accident victim. Some of these causes can be attributed to drivers, and other causes can be attributed to the trucking company. In some cases, both the individual driver and the company are at fault for an accident. 
An experienced Mesa truck accident lawyer can assist you in determining the exact causes of your trucking accident, and in turn, aggressively pursue compensation from the parties who caused your injuries and losses. If you lost a loved on in a trucking accident, our Mesa wrongful death lawyers are here for you.
Types of Truck Accidents
Trucking accidents occur in many different forms, which is largely due to the large variety of the types of semi trucks that one may encounter on the road. Most commonly, the types of truck accidents that lead to personal injury lawsuits include the following: 
1. Jackknife Accidents
"Jackknifing" is a term unique to accidents involving any type of vehicle that is pulling a trailer behind it. Semi trucks are made up of two parts: the cab, which is detachable, and the trailer, which is changed out for each load a driver picks up. In between the two parts, the trailer sits on a joint that can turn in every direction, which makes it easier for the driver to maneuver the trailer – as opposed to one very long continuous vehicle, such as a bus.
However, that maneuverability creates a unique risk in jackknifing, which occurs when the trailer becomes out of balance with the cab and causes the semi truck to essentially fold in half. In a jackknife accident, the cab and the trailer actually collide into each other at a 90 degree angle. These accidents commonly occur due to driver error, such as braking too quickly. 
Jackknife accidents are extremely dangerous. When a semi truck jackknifes, the driver completely loses control, and the truck moves horizontally. On a multi-lane road such as a highway, the truck can quickly enter surrounding lanes and cause a massive accident. In some jackknife cases, the momentum of the jackknife can also cause the truck to turn over. 
2. Turning Accidents
While a semi truck's design makes for easier maneuverability, getting a truck into tight spaces is still a very complicated endeavor. Specifically, when trucks turn right, they require a large amount of clearance to successfully make the turn. If a truck driver does not check for clearance or otherwise makes the turn incorrectly, the truck will collide with traffic and objects beside it. 
3. Rollover Accidents
Because semi trucks are so large and often are carrying very heavy cargo, they are unfortunately prone to rollover accidents. These accidents can occur for a variety of reasons, including unsafe driving, inadequate braking, and sudden maneuvers. A sharp or quick turn that would normally be uneventful in a passenger car can lead a semi-truck to turn over, causing catastrophic damage. 
Rollover accidents can also be attributed to improper loading of cargo. Because cargo is so heavy, it must be loaded in a balanced manner to ensure that the truck is not more prone to rollovers than usual. If cargo is unbalanced or otherwise improperly loaded, causing a rollover accident, liability can (and should) be sought against the loading company. 
Determining Fault in a Truck Accident Case
Fault is apportioned in a truck accident case in a similar manner as an "ordinary" vehicle collision case. But as previously mentioned, due to the complicated and severe nature of truck accidents, that determination can be much more complicated and involve more parties than an ordinary case. After collecting evidence and investigating your case, your attorney will determine from which parties you should attempt to collect compensation.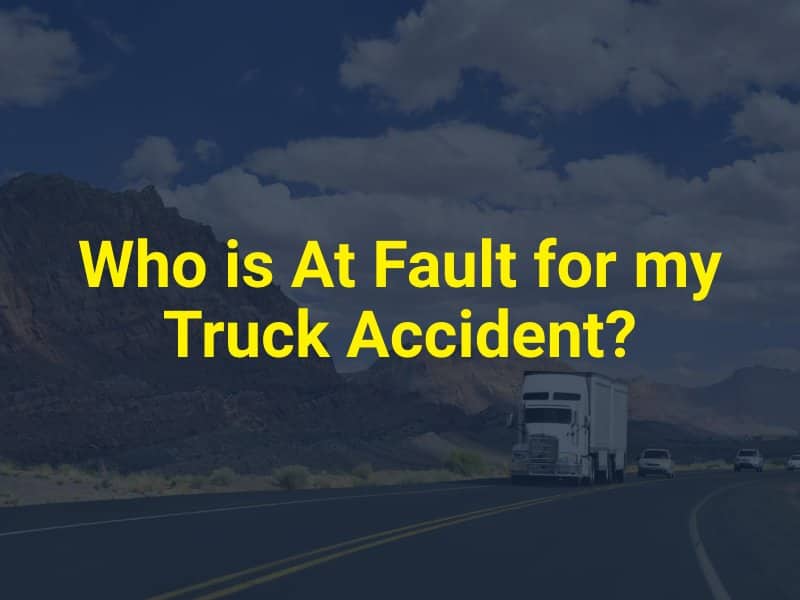 The parties which may be responsible for your trucking accident include:
The individual truck driver

The trucking company

A staffing agency who hired the driver

The trailer owner

A company who loaded the cargo into the truck 

The truck owner, in a leased or rented vehicle 

A maintenance worker or maintenance company 
In addition to these parties and entities, trucking accidents also usually involve sophisticated insurance companies who retain teams of high-powered lawyers. It is essential that you find a Mesa truck accident attorney who isn't afraid to take on an insurance company or a trucking company, and who has the experience and knowledge to advocate for you effectively. 
Evidence Used in a Trucking Accident Case
One "silver lining" of trucking accident cases is that they usually involve evidence that is extremely effective in proving fault and liability. Due to the highly regulated nature of the trucking industry, truck drivers are required to keep meticulous logs of vehicle maintenance, rest periods, and driving activity. In many modern trucks, these logs are electronic and function in a similar fashion to "black boxes" on airplanes, which provide a snapshot picture into the moments before and during an accident. 
All in all, the evidence that may be used in a trucking accident case includes the following:
Onboard and external maintenance logs

"Black box" recording devices

Dash cameras

Witness statements

Traffic cameras, where applicable

Truck driver's record and past history 
How Much is My Mesa Truck Accident Case Worth?
The damages available to trucking accident victims include the same types of damages that are available to any other personal injury victim. In general, Arizona law provides that accident victims should be compensated fully and fairly for the injuries they sustained due to another person's wrongdoing. That means you should be able to recover compensation for any losses or costs you have incurred.
Most commonly, the types of damages available to truck accident victims include medical bills and expenses, lost wages, loss of future earning potential, property damage to your vehicle, loss of enjoyment, and loss of consortium damages for family members.
Mental and emotional damages are also available to victims of trucking accidents. Being in a truck accident is a terrifying experience that could cause lifelong repercussions for a victim, including PTSD, chronic anxiety about driving, depression, and other psychological manifestations. 
Many victims, even if their mental damages do not rise to the level of a diagnosis, experience a lifelong fear of trucks following an accident. Because it is impossible to drive without encountering trucks, these mental and emotional issues are debilitating and have extremely negative effects on a victim's life. Victims deserve to be compensated for these damages, too, and an experienced Mesa attorney will include mental and emotional damage claims in a lawsuit. 
In some cases involving particularly bad conduct by a truck driver or trucking company, punitive damages may be available. Punitive damages are designed to penalize wrongful acts or omissions and provide an incentive for other similar parties to avoid making the same mistakes. Where applicable, punitive damages should always be sought in a lawsuit, as they can greatly increase a victim's total amount of compensation. 
Contact Our Experienced Mesa Truck Accident Lawyers
Our team at Hastings and Hastings has the experience and the knowledge necessary to fight on your behalf following a trucking accident. If you or a loved one has fallen victim to a truck driver or trucking company's negligence, you should contact an experienced Mesa accident attorney as soon as possible.
We're ready to help. Contact us today.