Wrecks involving semi-trucks can change the lives of those involved in an instant. Due to the massive size and weight difference, occupants of passenger vehicles often bear the brunt of the collision and suffer serious injuries or are tragically killed.
If you or someone you love were involved in a wreck with a semi-truck in Arizona, first seek the medical help you need. Once you are receiving treatment, don't battle it alone – it is important that you seek professional legal advice. These trucking cases can be incredibly complicated from a legal perspective. The Phoenix truck accident attorneys at Hastings & Hastings are here to help. While you're focusing on your recovery, an experienced semi-truck accident lawyer can help you get the compensation you deserve.
Here at Hastings and Hastings, we are proud to offer the people of Arizona a free initial consultation with a licensed Phoenix personal injury attorney. Simply give our law firm a call at (480) 706-1100 or fill out our online form and we will get back to you. You will never meet with a paralegal or salesperson at your free initial consultation – instead, you will speak directly with a licensed attorney, because only they can give you legal advice. Do not settle for anything less.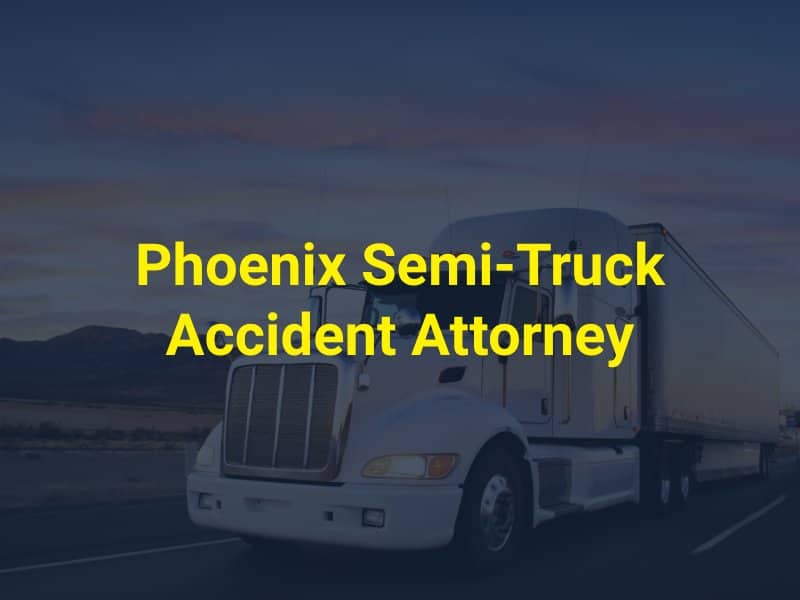 Trucking Accident Resources
Why Hire a Phoenix Truck Accident Lawyer?
Being involved in a commercial truck accident is an incredibly serious matter. In addition to dealing with your injuries, you may now have legal rights that should be protected in what amounts to a very complex legal situation. Truck accident claims aren't as simple to navigate as other types of vehicle accidents.
Trucking companies are just that: companies. You are an individual. The trucking company involved has an entire legal team at their disposal. If you don't have an experienced truck accident lawyer on your side, one of two things will happen to your claim. You will either be denied outright or you will not be paid enough to even cover your bills, let alone getting paid what your claim is truly worth.
The insurance company representing the trucking company may talk you into signing a settlement agreement that isn't fair to you. Their insurance company isn't looking out for what is in your best interest. Honestly, the only "best interest" they have in mind is their own. They want to pay out as little as possible so that they can keep a healthy profit margin. Don't sign anything without first talking to an attorney of your own. A truck accident attorney has the job of advising you about what is in your best interest. They can also deal with the insurance company on your behalf and help you get a fair payout for your accident.
Fault can be tricky to determine in these types of cases. There can be more than one defendant. Having an experienced Phoenix truck accident lawyer on your side can help ensure that all of the proper defendants are named.
Why Should Hastings & Hastings Handle Your Truck Accident?
The Hastings & Hastings team is dedicated to fighting for the rights of injured victims in Arizona, and we have a long history of fulfilling that commitment. With more than four decades of experience, we are well-equipped to handle complex truck accident cases. Our goal is always to maximize financial compensation for our clients and ensure justice is served.
We understand that being involved in an accident comes with physical pain, emotional trauma, and financial stress. From personalized attention from a licensed attorney to putting more money in your pocket when we win your case, we go above and beyond to assist you every step of the way.
At Hastings & Hastings, we believe that communication is key; our team works hard to keep you informed on all aspects of your case so you can make the best decisions for yourself and your family. We never waiver on our commitment: We are here to help you get the compensation you deserve without asking for payment upfront – no matter what your financial situation may be.
We have recovered hundreds of millions of dollars over the years for our clients. Because of our track record of success and satisfied clients, over half of the cases we handle come from referrals and repeat clients. We will stop at nothing to help you get the justice and compensation you deserve. Contact Hastings & Hastings to schedule a free consultation for your truck accident claim.
Gathering Evidence For Your Case
A Phoenix truck accident lawyer can help you understand your rights and the compensation you may be eligible for. They will review all pertinent evidence and do a comprehensive investigation. Here are some of the pieces of evidence that an attorney may look for, and why they are critical:
Logbooks: Logbooks are a vital source of information for truck accident cases. They contain data about the driver's hours of service, rest periods, and other relevant details about the trucker's shift. This information can be used to see if the driver was suffering from fatigue or violating federal regulations, helping to prove fault.
Black Box/Computer Data: The black box or computer data from the truck can provide vital data concerning the speed, braking, and other actions taken by the driver near the time of the accident. This data can be used to establish if the driver was acting negligently, helping to prove fault.
Documents Detailing the Load of the Truck: The load of the truck can be a crucial factor in many truck accidents. If it was not correctly secured or too heavy, it could have caused the truck to roll over or become unbalanced. Examining documents describing the load of the truck can help ascertain if the load was an element in the incident, helping to prove fault.
Details Regarding Previous Deliveries: Investigating data about earlier shipments can reveal if the driver went against federal regulations, such as driving for too many hours without a rest. 
Tractor-Trailer Inspections: Inspections of tractor-trailers are an important resource in truck accident cases. They show the condition of the truck and can help establish if it was maintained correctly. If its mechanical fault is linked to inadequate maintenance, the company responsible for taking care of it may be held accountable for the accident.
Recreations of the Scene of the Accident: Recreating the site of the accident can assist in determining how it occurred and who might be responsible. This data can be utilized to rebuild the accident, which can help demonstrate liability.
Training Information: Reviewing the training details can help reveal if the driver was qualified to operate the truck. If not, the company that hired them could be held accountable for the accident.
Types of Truck Accidents
The following are some of the most common types of commercial trucking accidents that occur:
Underride Accidents
Underride accidents occur when a smaller vehicle becomes lodged under the rear or side of a large truck. These accidents usually happen due to the difference in height between the two vehicles and can result in catastrophic consequences. Most commonly, underride accidents happen when a truck stops or slows down suddenly and the motorist behind the truck doesn't have the time or space to avoid the collision.
Override Accidents
Override accidents are the opposite of underride accidents, where a large truck drives over the top of a smaller vehicle. This can happen in various scenarios, such as when a truck driver doesn't see a small car in the lane next to them, or when the car stops suddenly in front of the truck. Just like underride accidents, override accidents often result in severe damages and tragic consequences.
Jackknife Accidents
Jackknife accidents happen when a truck's cab and trailer fold at the articulation point, creating an acute angle that resembles a folding pocket knife. These accidents are often caused by sudden braking, improper loading, or hazardous road conditions, such as ice or spilled oil.
A jackknife accident can lead to multiple-vehicle collisions as the truck's trailer swings uncontrollably across the highway. To prevent jackknife accidents, truck drivers must ensure their cargo is loaded correctly and exercise caution when braking or negotiating a curve under adverse conditions.
Wide Turn Accidents
Wide turn accidents are common when a truck driver swings out the vehicle to make a turn, creating a dangerous situation for nearby motorists. These accidents often occur due to the driver's lack of awareness or negligence, and they can lead to significant damage and injuries.
Blind Spot Accidents
Blind spots are areas around a truck that the driver cannot see directly. Given the sheer size of these vehicles, blind spots are much larger and more hazardous when compared to passenger cars. Accidents happen when drivers change lanes or merge into traffic without realizing that another vehicle is present in the truck's blind spot.
Rollover Accidents
Rollover accidents occur when a truck tips over onto its side or roof, leading to severe injuries and fatalities. These types of accidents are particularly dangerous because they can lead to a chain reaction involving multiple vehicles. Rollover accidents typically occur when a truck is traveling at high speeds, changes lanes abruptly, or takes a turn too quickly.
Common Causes of Semi-Truck Accidents in Phoenix
Distracted Driving
Big rig drivers should always have their eyes on the road. But just like many other motorists, they get distracted by their phones, or they try to eat while on the go. These distractions can have deadly consequences for anyone that gets near them. Deaths caused by semi-truck accidents could be avoided if all truck drivers acted in a responsible manner. Unfortunately, some don't, and this can lead to serious injuries or death.
Drowsy Driving
Truck drivers often spend many hours on the road. They are required to rest, but sometimes they try to beat the system. Drowsy driving is one of the main causes of semi-truck accidents in the state of Arizona. If a drowsy driver has caused you to suffer injuries or lost wages, please contact our office.
Untrained Drivers
While all truck drivers are supposed to have the proper training, some trucking companies fail to provide safety education. The shortage of truck drivers in this country has caused some companies to hire anyone they can find even if they don't have the right training.
Being Over The Weight Limit
Trucking companies often push drivers to haul as much freight as possible. This often puts them over the legal weight limit. While the state patrol and other law enforcement agencies try to stop this practice, they can't catch them all. Being over the weight limit can make it hard for truck drivers to stop. This can lead to rear-end accidents that are often deadly. If you have bee rear-ended by a semi, make sure to give us a call.
Collapsed Roadways
Collapsed roadways, potholes, or weak infrastructure can lead to a tragic truck accident. These road hazards can cause the truck to lose control or tip over. It's crucial that truck drivers are cautious and vigilant when navigating roads with subpar conditions.
Compromised Tires
Tires are critical components of large trucks, and compromised tires can lead to disastrous consequences. Worn-out, underinflated, or overinflated tires can result in decreased traction, loss of control, or even tire blowouts, making accidents more likely. Regular tire maintenance and inspections are essential to prevent tire-related accidents.
Failed Brakes
Failed or compromised brakes are another leading cause of truck accidents. Due to their size, trucks require more time and distance to come to a complete stop. Brake failure can lead to catastrophic collisions with other vehicles. Regular brake inspections and proper maintenance are vital to ensure the reliable functioning of brakes.
Inadequate Uphill Travel
When driving uphill, the heavy loads that trucks carry can put immense strain on the truck's engine and transmission system. If the truck's engine or transmission fails, it can lead to hazardous situations as the vehicle may roll backward. Being aware of the truck's limitations and maintaining a safe distance from other vehicles is crucial when traveling uphill.
Improper Handling
Improper handling of a truck, such as taking sharp turns at high speeds or swerving to avoid obstacles, can cause the truck to lose control or tip over. Truck drivers should always exercise caution, driving defensively and avoiding abrupt maneuvers.
Inadequate Stopping Distances
Due to their massive size and weight, trucks require longer stopping distances than cars. Failing to maintain appropriate stopping distances can result in rear-end collisions with other vehicles. To avoid such accidents, drivers should maintain a safe following distance and stay vigilant when driving in traffic.
Common Injuries Sustained from Truck Accidents in Phoenix
There are many injuries that can result from a truck accident in Phoenix simply because a semi-truck is so much larger than other vehicles. So, injuries are often devastating. Examples of common injuries include, but are not limited to:
Injuries caused by air bag deployment
Injuries caused by your vehicle rolling over after the collision
Traumatic injury to your back
Traumatic injury to your neck
Severe burns that may result in the need for skin grafts
Disfigurements
Crushing injuries
Internal injuries
Lacerations
Amputations
Often, these injuries are catastrophic in nature. Even if they aren't, they are often so severe, that you require a substantial amount of time for you to make a full recovery.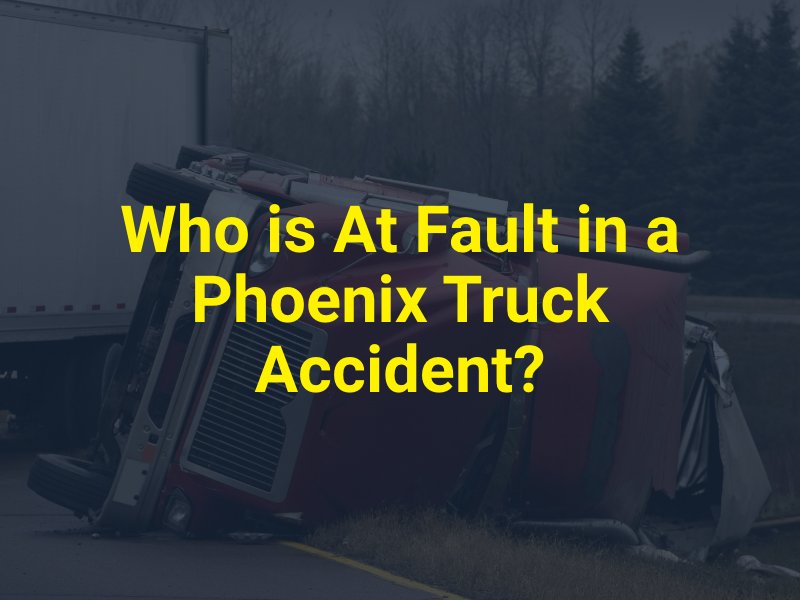 Who is At Fault in a Phoenix Truck Accident?
Fault can be a complicated matter in Phoenix truck accidents. There can be more than one defendant based on the circumstances of the case. So, if you're involved in a truck accident in Phoenix or the surrounding areas, it's imperative that you get a case evaluation from our experienced truck accident attorneys. This is the only way that you'll get a clear picture of who may be named as a defendant for your claim.
Here are some of the parties that could be liable in a truck accident and what needs to be done to prove liability:
Truck Driver
The truck driver is often the first person who comes to mind when thinking about who is responsible for a truck accident. Truck drivers are responsible for operating their vehicles safely and following all traffic laws. 
If a truck driver was driving under the influence, was distracted, fatigued, or otherwise operating their vehicle negligently, they may be liable for the accident. To prove liability, it is necessary to gather evidence such as the trucker's driving history, the results of a blood or urine test screening for drugs and alcohol, or eyewitness testimony.
Trucking Company
The trucking company may also be liable in certain instances. This is because they are responsible for making sure that their vehicles are adequately maintained and that the drivers they hire have the required qualifications to operate them safely. 
Your lawyer can gather evidence such as maintenance records, driver training records, or other documentation to show why the company should be responsible.
Company Responsible for Loading or Maintaining the Truck
In certain cases, the company that loaded and/or maintained the truck may also be held responsible for a truck accident. For example, if the load was not properly secured, resulting in an overturn, then the loading company may be liable. Similarly, if a mechanical failure occurred due to inadequate maintenance, then the company responsible for maintaining the truck could face repercussions.
Another Driver
In certain cases, another driver may be liable for a truck accident. For example, if another vehicle caused the truck to swerve or change lanes suddenly, causing the truck to crash into you. 
Manufacturer of Defective Truck Parts 
In some cases, the manufacturer of faulty truck parts could be held liable for a truck accident. For example, if a defective tire is found to have caused the crash, the tire's maker may be responsible. 
Other potential defendants could include a government agency responsible for road repairs or a truck leasing company. There could be one defendant or multiple defendants. It's vital to have a thorough review of the facts.
What If the Police Report or Insurance Company Say You Held Some Fault?
When a truck accident or other vehicle accident occurs in Phoenix, a legal concept known as comparative negligence is used. The fault and/or negligence of each party involved is based upon their respective contributions to the accident.
Under Arizona's pure comparative negligence rule, the accident victim's compensation gets reduced by the percentage of their negligence, if any: 
"If the jury applies either defense, the claimant's action is not barred, but the full damages shall be reduced in proportion to the relative degree of the claimant's fault which is a proximate cause of the injury or death, if any."
This means if you are found to be 10% at fault for the accident, your award will be reduced by 10%.
Here's an example to illustrate the concept: Suppose you were involved in a truck accident and suffered damages worth $100,000. If the court determines that you were 10% at fault for the accident, your compensation would be reduced by $10,000 (10% × $100,000), leaving you with an award of $90,000.
It is essential that you have the facts of your case reviewed by an experienced Phoenix truck accident attorney. Remember that insurance companies don't want to pay out what they should. These cases can be complicated from a legal perspective. Because of this, there can be more than one defendant. So, the report that you have that says you're holding fault, may not be as cut and dry as it seems.
Am I Eligible for Compensation After a Truck Accident in Phoenix?
As a victim of a truck accident in Phoenix, you may be eligible for financial compensation. This comes in two forms: economic and non-economic damages. Examples of economic damages include financial losses you experienced because of the accident, such as:
Medical Expenses: The cost of medical attention, including emergency care, hospitalization, therapy, and ongoing medical treatment, may be awarded.
Lost Wages: If you've been prevented from working due to your injuries, you could be eligible for lost earning compensation. This may include wages lost since the accident and future earnings, as well as commissions or bonuses you missed out on.
Property Damage: If any property was damaged in the accident – like your vehicle, cell phone, or laptop – you may receive reimbursement for repairs or replacement costs.
Non-economic damages include losses that can't truly be quantified in terms of money, but the court uses money as a means to compensate you for the loss that is present. Examples include:
Pain and Suffering: In addition to economic losses, non-economic damages such as physical pain or emotional distress resulting from the incident might also be compensated.
Loss of Consortium: This refers to the loss of the companionship, love, and affection of a spouse or other family member as a result of the injury. This can include the loss of the ability to engage in sexual relations, the loss of emotional support and companionship, and other forms of relationship damage.
Sometimes, the court determines that the actions of the defendant(s) were so heinous that they must step in and make an example of them. By doing so, the court hopes to send a strong message to others to not repeat the behavior. The court does this by assessing punitive damages to them.
Why You Should Never Accept an Insurance Company's First Offer
Insurance companies are in the business of making money, not paying out huge settlements to victims. It's in their best interest to make the lowest possible settlement offer to victims in order to close the case quickly. Here are some reasons why you should not accept their first offer:
You may not be aware of the extent of your injuries

: In the immediate aftermath of a truck accident, you may not know the full extent of your injuries or the long-term impact they can have on your life. In many cases, victims find out later that their injuries are more severe than initially thought and require expensive and long-term medical care.

First offers are usually low

: Insurance companies will often try to low-ball their first offer, hoping that the victim is desperate and will accept it without question. By doing so, they save money and protect their bottom line.

You need a professional evaluation of your damages

: To determine the true value of your claim, it's essential to have a professional evaluation by an experienced attorney who is well-versed in personal injury law. They can help you to understand what your case is worth and negotiate with the insurance company on your behalf.

Emotional distress and loss of income should be considered

: When assessing your compensation, other factors like emotional distress, lost wages, and loss of future earning capacity should be taken into account. Insurance companies may not account for these crucial aspects in their initial offer.
Considering these reasons, accepting the first offer without consulting an experienced personal injury attorney is not the wisest decision.
Is There a Deadline to File My Truck Accident Case in Phoenix?
In most cases, there is a two-year deadline to file an Arizona truck accident case. This means that you have two years from the date of the accident to file your claim. It is best to file your claim as soon as you can. This is helpful so that you can be assured that no deadlines are missed and the facts are as clear as possible. This also helps preserve evidence.
Involved in a Phoenix Truck Accident? Schedule a Free Consultation
If you or someone you love was hurt in a Phoenix truck accident, Hastings & Hastings is here to help. We have over 90 years of combined experience handling semi-truck accidents. We know how serious they can be. As an experienced Arizona accident law firm, we know how to get you every dollar you deserve if you've been injured by a semi-truck.
Hastings and Hastings has been serving Arizona for over 40 years, representing injured victims and battling the insurance companies to make sure you get all the compensation you deserve. At the end of your case, our discount fee puts more money in your pocket, allowing you to take care of what matters most: your health and your loved ones. If you've been injured in a semi-truck accident, don't wait, call today at (480) 706-1100 or send us a message online to schedule your free case evaluation.