Losing a family member or loved one is always a tragic experience. But for some families, that tragic experience is made worse by the knowledge that their loved one's death was entirely preventable. When someone is killed due to another person's negligence, their family can and should seek compensation from the person who caused the death in a wrongful death lawsuit. 
Hastings and Hastings is a Mesa personal injury law firm that has extensive experience in litigating wrongful death claims on behalf of families who have lost loved ones. While we understand that no amount of money could truly compensate a family for the loss of a loved one, our attorneys also know that you should fully enforce your rights under the law. When those rights include a potential avenue for compensation, you should pursue it aggressively. Contact our firm today to get started with a free case consultation.
Arizona Wrongful Death Lawsuits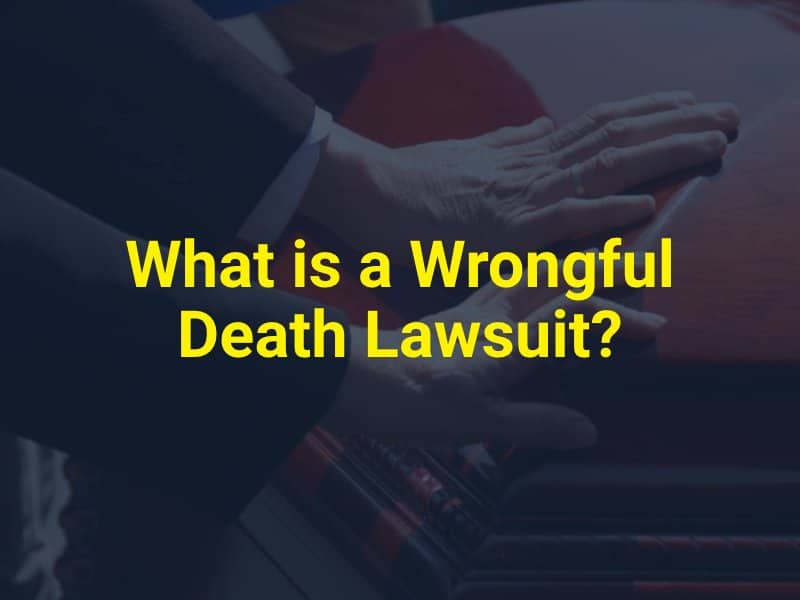 In Arizona, a wrongful death lawsuit can be filed by the immediate family members of a person who has died due to another person's negligence. Those immediate family members usually include spouses, parents, and children. A wrongful death claim can also be brought by a deceased person's estate if they have one. 
In a wrongful death lawsuit, the deceased person's survivor essentially steps into the deceased person's shoes, and the case is prosecuted in the same manner as it would be if the person had survived the accident. The difference is in damages – wrongful death claims allow for significantly larger recoveries than ordinary personal injury suits. 
For that reason, survivors of victims should contact an experienced Mesa wrongful death attorney as soon as possible following the loss of a loved one. 
How Hastings and Hastings Can Assist Families in Mesa, AZ
For more than 40 years, the Hastings and Hastings attorneys have been fighting on behalf of Arizona families for compensation in response to wrongful and negligent conduct that causes injury to others. We pride ourselves on our commitment to justice and on always putting our clients first. 
In wrongful death cases, our team is ready to advocate for you and your family in a compassionate manner that recognizes the tragic loss you have suffered. In addition to being your attorney, we'll be your advocate, your confidante, and your ally. We'll work to ensure that the lawsuit proceeds as smoothly and as easily as possible, so as to allow your family the space and time for healing. 
Our Track Record Speaks for Itself 
Our team of wrongful death lawyers have almost 100 years of combined experience fighting for Arizona families. In that time, we've put together a track record of successes in and out of the courtroom that truly speaks for itself, as our clients are eager to express satisfaction with our firm's work. During the years we've been in business, we have received more than 600 personal, handwritten reviews from verified past clients expressing gratitude and approval with Hastings and Hastings. 
Online, we have more than 500 five-star Google reviews from verified clients. In today's age, having even a neutral online presence can be a positive, as people are generally much more eager to express displeasure online than satisfaction. But our reputation is far beyond neutral – our clients are willing to spread the word about the work we do. In turn, most of our business is obtained through word of mouth referrals and repeat clients. We would look forward to adding you and your family to our roster of satisfied clients. 
Discount Fees Prioritize Our Clients 
Hastings and Hastings is a different kind of personal injury law firm, in that we put our clients first. Our commitment to our clients is most evident in our Discount Fee arrangement, which we innovated and designed in-house. 
Most personal injury law firms take a flat percentage of their clients' recovery – usually around 40 percent. These flat fees are convenient for lawyers, and they prioritize the lawyers' interests over the client's. Many times, clients end up overpaying for services that they did not receive. Under Hastings and Hastings' Discount Fee arrangement, we commit to saving our clients as much money as possible. Instead of a flat percentage, Discount Fees are evaluated on a case-by-case basis, in a manner designed to maximize client savings. 
Additionally, we pledge that we don't get paid unless you do. Our No Fee Promise goes alongside our Discount Fee arrangement and provides that you will owe nothing up front, and nothing in the end, unless we obtain a settlement or verdict for you and your family. 
Types of Mesa Wrongful Death Cases
Wrongful death cases can arise in any factual context and within any scenario. Any time one person dies due to the negligence of another person and the surviving family or estate files a personal injury suit, the lawsuit is considered to be a wrongful death suit. The most common types of wrongful death suits include the following: 
Negligent Homicide
Negligent homicide occurs when one person's negligence directly kills another person beyond an accident, such as in a drunk driving case. In many car accident cases, negligent homicide usually results in criminal charges for the victim, often resulting in prison sentences. But in addition to criminal charges, negligent homicide can give rise to civil liability, as well. In these cases, a deceased person's family seeks compensation directly from the person who caused the death. In some cases, insurance companies may also be involved. 
Truck and Motor Vehicle Accidents
Thousands of Americans die every year in a car accident, both involving passenger vehicles and semi trucks. When a person dies due to another person's negligence in motor vehicle accidents, their family has the right to seek compensation from the other driver or another entity which may be liable, such as the driver's employer or their insurance company. Wrongful death lawsuits are especially common in the context of trucking accidents, as these accidents cause catastrophic injuries due to the size of the vehicles involved. 
Workplace Accidents
Wrongful death within the workplace is a uniquely tragic type of case because these deaths are entirely preventable. Usually, workplace injuries and workplace deaths occur due to a company's failure to follow safety protocols. When such a failure occurs, the company (and in some cases its employees) may be liable for causing another person's death. 
In other cases, workplace accidents can occur due to faulty equipment that was wrongfully manufactured or maintained. Cases involving faulty equipment are common in industries that contain heavy machinery, such as construction, manufacturing, and metal work. If your family has suffered the loss of a loved one while on the job, you should consult an experienced attorney as soon as possible. 
Damages Available in a Wrongful Death Case
The types of damages available in wrongful death claims generally include all of the damages available in an ordinary personal injury case, in addition to damages that are specific to wrongful death actions. Additionally, because wrongful death cases result in the loss of a life, they are often more appropriate for seeking punitive damages. These types of damages allow for a court to assign additional money damages as a form of punishment, in order to discourage others from making similar mistakes in the future. 
The types of damages available to plaintiffs in a wrongful death case include the following: 
Funeral expenses

Medical bills and expenses

Loss of future earning for one's family 

Punitive damages

Pain and suffering for loss 

Pain and suffering for painful deaths 

Loss of companionship 
In all, Arizona law provides that surviving families of a wrongful death victim should recover compensation that fully compensates the injuries that have been sustained. When designing your wrongful death lawsuit, your personal injury lawyer will consult with you to take a full accounting of what damages you and your family have suffered, and then aggressively pursue compensation for them. 
When Should a Wrongful Death Claim Be Filed? 
Unfortunately for victims and families, the law places a deadline on the amount of time in which a lawsuit should be filed. These deadlines are called statutes of limitations, and they are the most important reason why you should speak to a Mesa wrongful death lawyer as soon as possible after an accident has occurred. 
Arizona Statutes of Limitations
In Arizona, families of wrongful death victims have two years from the date of the death to file a lawsuit. While two years sounds like more than  enough time, many families do not begin considering wrongful death lawsuits until they have completely gotten through the grieving process. Death can be a complicated matter, as it involves funeral planning, disposition of assets, administration of an estate, and more. These processes take time, and it is easy to avoid thinking about filing a lawsuit until after all of these things are finished. 
At Hastings and Hastings, we understand the sensitive nature of wrongful death lawsuits. We believe that speaking to an attorney can actually be a part of your healing process – not another barrier to overcome. For many families, seeking justice on behalf of their lost loved one can be an important step in obtaining closure on their road to healing. For those reasons, you should speak to an experienced Mesa wrongful death attorney as soon as possible after the loss of a loved one. 
Important Steps for a Wrongful Death Case
For some families, the overwhelming grief of losing a loved one can cause a sense of paralysis, and a lack of knowledge about how to move forward. In the days and weeks following a tragic loss, you and your family should consider the following: 
1. Take Care of Yourself
Initially, ensure that you, your family, and your emotional wellbeing are taken care of. Losing a loved one in an accident is a shocking, tragic, and traumatic experience. While the grief process can take years to play out, in the days immediately following a loss, taking care of yourself should be your first priority. 
2. Handle the Deceased's Arrangements
Unfortunately, a death in the family can also create a lot of work for surviving family members. Funerals and burials must be planned and executed, estates need to be administered, belongings need to be disposed of, and other arrangements need to be taken care of. Handling the initial steps in each of these processes should be your next step after ensuring your own wellbeing. 
3. Avoid Speaking About the Accident
In the weeks following an accident, you may be contacted by insurance companies or other entities looking to speak with you about the loss of your loved one. While these people may initially present themselves as sympathetic to your loss, they are likely looking to collect information that may be used against you in the future. You should avoid speaking to anyone about the accident to the fullest extent possible. Even small things you say may be used against you and your family in the future if you decide to file a wrongful death lawsuit. 
4. Find an Experienced Mesa Wrongful Death Attorney
The most important step in deciding whether to file a wrongful death lawsuit is to select the right personal injury lawyer to evaluate your case. You should conduct research into wrongful death attorneys in Mesa and select a team of attorneys with specific experience in personal injury and wrongful death cases. 
While some attorneys operate "one stop shops" and handle all types of matters, wrongful death attorneys will have the specific knowledge and experience necessary to effectively advocate for your family's interests against employers, insurance companies, and anyone else who may be liable for damages.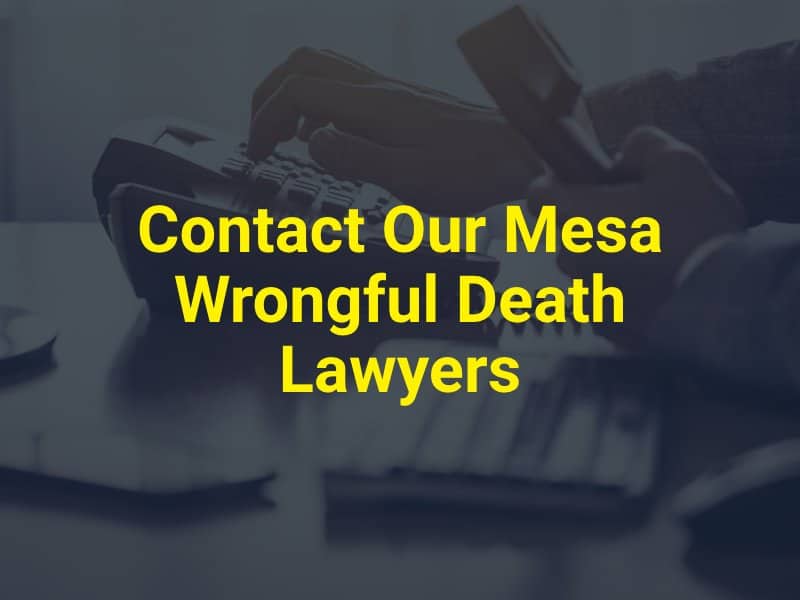 Contact a Mesa Wrongful Death Attorney Today
With more than 40 years of experience fighting on behalf of Arizona families, our team at Hastings and Hastings is ready to assist you and your family. Our free case consultations are offered at no upfront cost to you, and most importantly, we commit to connecting you with a licensed attorney from the very start. At your free case evaluation, our attorneys will listen to you and speak with you about whether you and your family may be eligible to pursue compensation for the wrongful death of your loved one.
Contact us today to set up an appointment – we're looking forward to hearing from you.