Mesa is a beautiful place to work and live. It's certainly no wonder why so many people walk instead of drive. Unfortunately, Arizona is not always a safe place to walk. In fact, the state has the fourth highest pedestrian death rate in the US per 100,000. Sadly, these accidents continue to rise. When pedestrians are struck by cars and trucks, the results are often devastating because of their lack of protection. If you or someone you love was hurt or killed in a pedestrian accident in Arizona, the experienced Mesa pedestrian accident attorneys of Hastings & Hastings. Your first consultation is free.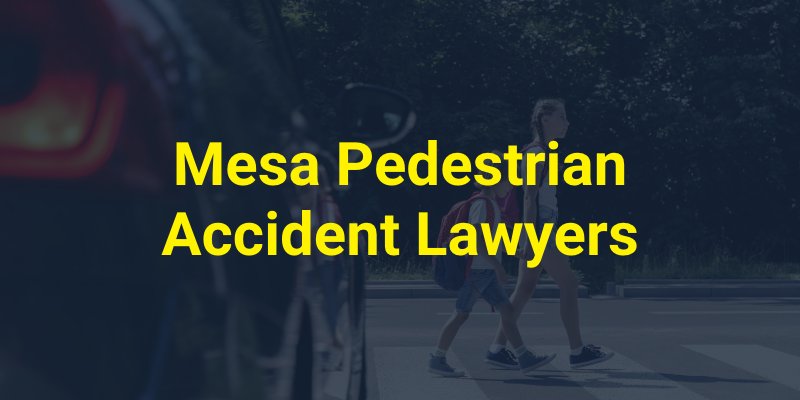 How Our Personal Injury Lawyers Help Injured Pedestrians
Engaging a seasoned personal injury lawyer after being involved in a pedestrian accident can significantly enhance your chances of securing appropriate compensation. Here's why you need one:
Case Evaluation
Lawyers with expertise in pedestrian accidents will sit down and listen to your story so they can determine if you have grounds for a claim. They can accurately assess all factors impacting the outcome of your case. 
Thorough Investigation
An attorney will diligently gather critical evidence including police reports, witness testimonies, and medical records. This allows them to develop compelling and comprehensive arguments that can lead to you recovering compensation for your damages. 
Professional Negotiation Skills
Insurance companies and adjusters often try to minimize payout amounts, as their main goal is to protect their bottom line and pay out as little money as possible. Experienced legal representation understands the typical tactics these parties take to try to limit your payout, allowing them to engage in productive negotiations and ensure that you get what you're entitled to. 
Expert Representation In Court
Having a lawyer in court to represent you is invaluable during any legal proceeding. They stand as your primary advocate and spokesperson, presenting your case before the judge or jury. Your attorney will handle everything including filing necessary documents, presenting arguments, examining and cross-examining witnesses, and making arguments as to why you deserve substantial compensation.
Each case is unique, but it's always a good idea to at least consult with a lawyer to see what your options are and learn how they can help you. 
What Does Arizona Law Say about Pedestrians?
There are several laws in the State of Arizona that apply to pedestrians. Generally speaking, pedestrians have the right of way in many instances, such as at crosswalks. When a pedestrian is crossing the street, vehicles are required to yield to the pedestrian.
The law requires pedestrians to use a sidewalk if there is one. This is for their safety. It is not lawful for pedestrians to cross the street where there isn't a crosswalk or to jaywalk. If they do either of these, they may be held partially responsible if they are injured in an accident.
However, it is crucial that both drivers and pedestrians pay attention to what's going on around them and understand the laws in Arizona.
Can Pedestrian Accident Victims Receive Financial Compensation?
Pedestrian accident victims may be able to receive financial compensation for their injuries, depending on the circumstances of the claim. The types of financial compensation that you may be eligible to receive are broken down into two types: economic and non-economic. Economic damages are damages that can be assigned a monetary amount, such as:
Medical Expenses: These can cover any medical costs associated with your injury. For example, ambulance services, surgery, medications, hospital stays, physical therapy, and follow-up care. 
Lost Wages: If your injury keeps you away from work or permanently affects your ability to earn income, compensation for these lost wages and future earning potential may be pursued.
Property Damage: The value of any personal belongings damaged during the event – like a cell phone or jewelry – can be calculated when recovering damages. 
The other type of compensation, non-economic, is for the losses you may have experienced that cannot be adequately taken care of by money, but there's no other way to truly compensate for them. For example, in wrongful death claims the surviving family members may recover compensation for:
Pain and Suffering: This category compensates for physical pain endured due to injuries from the accident. 
Emotional Distress: This refers to the psychological impact experienced by an individual due to a traumatic event or injury. This could encompass feelings of fear, anxiety, depression, or excessive worry impacting normal life functionality and overall well-being.
What Is Your Claim Worth?
What your claim is worth depends on many factors. Some examples include the severity of your injuries, whether you missed work, whether you'll be able to return to work, and whether you hold any liability for your injuries. To learn more, schedule your free consultation with Hastings & Hastings now.
Arizona Pedestrian Accident Statute of Limitations
The statute of limitations for pedestrian injury cases in Arizona is generally two years from the date of the incident. This is the case for wrongful death claims as well:
"Except as provided in section 12-551 there shall be commenced and prosecuted within two years after the cause of action accrues, and not afterward, the following actions:
For injuries done to the person of another including causes of action for medical malpractice as defined in section 12-561.

For injuries done to the person of another when death ensues from such injuries, which action shall be considered as accruing at the death of the party injured."
However, it's essential to acknowledge that certain exceptions to this rule exist, so always speak with an experienced attorney as soon as possible. 
What Are Common Injuries from Mesa Pedestrian Accidents?
Because pedestrians are not well protected against the impact of the vehicle, they can sustain serious injuries, catastrophic injuries, or even death. There are some pedestrians who are lucky enough to walk away with minor injuries or no injuries.
However, the most common injuries in Mesa pedestrian accidents include:
Broken bones
Dislocations
Serious lacerations
Severe puncture wounds
Severe head wounds and other head injuries that may result in traumatic brain injuries
Internal injuries, including internal bleeding
Scarring and disfigurement
Why Are Pedestrian Accidents So Common in Mesa?
Pedestrian accidents happen either because of driver or pedestrian error. These include:
Poor visibility for the driver
The driver being distracted by their phone, others in their vehicle, or for other reasons
The pedestrian steps out in front of the vehicle
The pedestrian isn't using the crosswalk and steps out into traffic, thinking that the vehicle has the legal obligation (and the time and ability to yield)
The driver ignores or "doesn't see" the crosswalk and does not yield to the pedestrian who was already in the crosswalk
The driver goes around a school bus that is loading or unloading
The driver didn't use proper care for weather conditions
The driver didn't use proper care for traffic conditions
The driver ignored a stop light or a stop sign
The driver did not follow the posted speed limit
The pedestrian ignored the walk signals
If you're involved in a pedestrian accident in Mesa, schedule your free case review with the experienced Mesa injury attorneys of Hastings & Hastings now.
What Should You Do If You're Involved in a Pedestrian Accident?
If you are involved in a Mesa pedestrian accident, follow these tips if you can:
Move somewhere safe if you can, but don't leave the scene.
Call 911.
Get a police report and immediate medical care to ensure you don't have any internal injuries even if you feel fine and don't have any obvious injuries.
Take photos, if you can, of the scene, your injuries, and the vehicle.
Do not apologize.
Collect witness information, if possible.
Schedule your free case review with Hastings & Hastings.
Schedule a Free Consultation With a Mesa Pedestrian Accident Attorney
If you or someone you love has been hurt in a pedestrian accident, Hastings & Hastings is here to help. As skilled pedestrian accident lawyers, we will work relentlessly to ensure that you receive the compensation you truly deserve. Far from simply covering immediate medical expenses, a comprehensive settlement accounts for long-term care, rehabilitation, lost income, and the emotional toll exacted by these challenging situations.
Our experienced Mesa accident attorneys provide free consultations. We want to help you understand your rights. Schedule your free consultation now.