A brain injury is often a life-altering event. It can cause both severe physical and mental consequences, including memory loss, paralysis, and difficulty speaking. A brain injury victim may not be able to continue working or even be able to live independently. If you or someone you love suffered a brain injury because of the negligence of another person, the experienced Mesa brain injury lawyers of Hastings & Hastings are here to help you get the care and compensation you need for medical bills and other costs. We're here to provide compassionate legal representation and support for you during this difficult time. Your first consultation is free.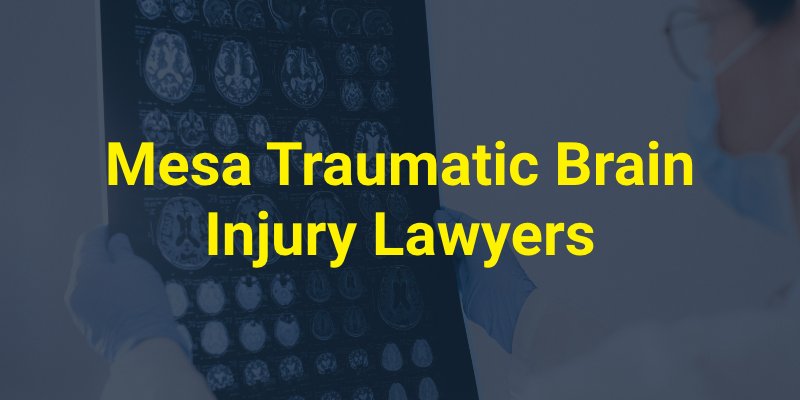 Why You Should Work With Hastings & Hastings For a Brain Injury Claim
There are several compelling reasons why you should consider working with the Mesa personal injury lawyers of Hastings & Hastings for your brain injury case:
Experience
Hastings & Hastings has been serving the state of Arizona for 40 years, demonstrating a long-standing commitment to helping accident victims seek justice. With over 90 years of combined experience, our team has extensive knowledge in handling various types of personal injury cases, including brain injuries. 
Free Initial Consultation
Our dedication to providing top-notch service is evident in our offering of a free initial consultation with an experienced, licensed Arizona personal injury attorney. We understand the importance of discussing your case without any financial obligation or pressure – allowing you the space to make informed decisions about your case.
Convenient Access
If you are unable to visit our office due to physical limitations caused by injuries sustained during the incident, we go out of our way to accommodate your situation. We will visit clients at their preferred location, including hospitals and homes, thereby ensuring seamless communication despite any constraints you may have. 
Fee Guarantee
Hastings & Hastings operates on a contingency fee basis, which means if we do not win compensation for you, there will be no attorney fees. This guarantee demonstrates our confidence in being able to successfully handle cases while maintaining fair and transparent practices benefiting our clients.
Why You Need a Brain Injury Lawyer
A brain injury lawyer can provide invaluable assistance to victims in several specific ways:
Understanding the legal process: Brain injury cases often involve complex legal procedures and stringent deadlines. An experienced lawyer has comprehensive knowledge of personal injury laws, understands the intricacies of brain injuries, and can guide you through each step of the legal process.
Evaluating damages: Brain injuries can have severe physical, emotional, and financial consequences for victims. A skilled attorney will assess all aspects of your case to determine the full extent of damages incurred, including medical expenses, rehabilitation costs, lost wages or earning capacity, and pain and suffering endured.
Gathering evidence and building a strong case: Your attorney will gather evidence such as medical records, testimony from medical experts demonstrating the impact of your injury, witness testimony, and anything else relevant to proving that the other party was negligent and caused your injury. They may even work with accident reconstruction specialists if necessary.
Negotiating fair settlements: Insurance companies frequently make attempts to minimize claims involving traumatic head and brain injuries by offering settlements that fall short of covering actual current and future losses. Working with legal representation can help thwart these tactics, maximizing your chances of obtaining appropriate compensation.
How Are Brain Injuries Caused?
Brain injuries can be caused in several ways. When it comes to negligence involving another individual, the most common causes of brain injuries in Mesa include:
Accidents, such as motor vehicle accidents and motorcycle accidents, that cause a blow to the head. This can cause a skull fracture, bleeding in the brain, or even damage to the brain tissue itself. These are known as traumatic brain injuries.
Drowning or obstruction of the airway because of an accident can cause an anoxic brain injury. This means that there is a lack of oxygen to the brain.
Accidents at work or even certain types of vehicle accidents, such as truck accidents, can lead to chemical or toxic exposure that can cause a brain injury. Examples of toxins and chemicals include lead, mercury, and carbon monoxide.
Steps To Take After a Brain Injury Accident
If you or someone you know has experienced a brain injury accident, it is important to take the following steps:
Seek immediate medical attention
Brain injuries can be serious and potentially life-threatening. Call emergency services right away or go to the nearest hospital for an evaluation and proper treatment.
Document details of the accident
If possible, gather as much information about the accident as you can at the scene. For example, take photos of any visible injuries, damage to vehicles or property, hazardous conditions, or anything else relevant to understanding what happened.
Also, write down your recollection of the events leading up to and following the incident while your memories are still fresh.
Contact the authorities
Report the accident to local law enforcement or relevant authorities, especially if it occurred on public premises or involved other parties. This helps create an official record of the incident.
Gather witness information
If there were any witnesses present during your accident, collect their names and contact information. Their testimony might prove vital at later stages when you're trying to obtain compensation. 
Consult with a lawyer specializing in brain injury cases
Brain injuries can have long-term implications and require ongoing medical treatment, rehabilitation, and potential lifestyle adjustments which might result in difficulty resuming pre-accident activities. Working with a lawyer ensures you have the best chance at recovering the appropriate compensation to allow you to focus on healing. 
What Is My Brain Injury Case Worth?
Determining what your brain injury case may be worth can be tricky to do on a website. There really aren't any hard and fast rules to follow. Instead, there are certain factors that are used to help determine what your case is worth. They include, and are not limited to:
The severity of your brain injury
The amount of money you spent (and even continue to spend) on medical care
Whether you have lost income in the past and whether you can continue to work
Whether you have ongoing medical or rehabilitative needs
Other facts where a dollar amount is not so easily assigned, such as loss of companionship
What Are the Most Common Ways Brain Injuries Happen in Mesa?
The most common accidents that cause brain injuries in Mesa include:
How Can a Mesa Brain Injury Attorney Help You?
The experienced Mesa brain injury attorneys at Hastings & Hastings can help you in many ways. We can help you understand your legal options and your rights. We can help you pursue financial compensation for your brain injury. We deal with the insurance company and defendant so that you can rest and focus on your recovery. Our objective is to help you obtain justice and get your life back to as close to normal as we can. If you're ready to learn more, schedule your free case review now.