According to Arizona Crash Facts, over 121,000 car accidents occurred in a single recent year in Arizona. With more and more people traveling and commuting daily to work since the lifting of pandemic restrictions, accident numbers are rising in Scottsdale and throughout the Phoenix area.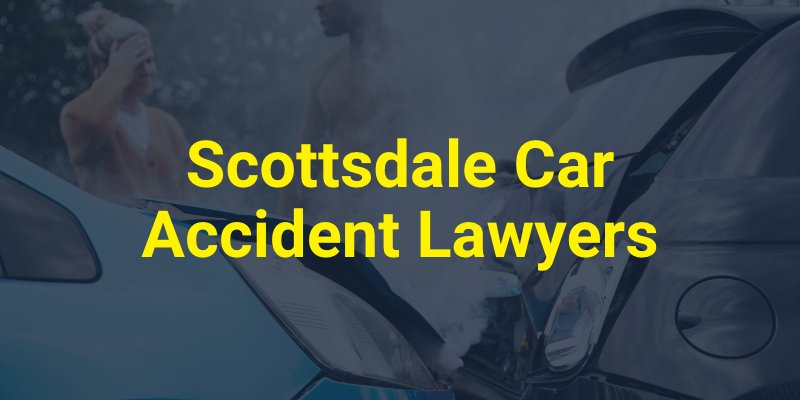 If you or a loved one have been injured in a car accident, you may be juggling managing mounting medical bills, ongoing treatment for your injuries, and lost time at work on top of the pain your injuries cause. While you're busy working on your recovery, the thought of taking on resistant insurance companies may be daunting. Their goal is always to take in more money in premiums than they pay out in claims and adjusters may find ways to undervalue your claim or deny it altogether. Find out how a Phoenix accident attorney can help.
The car accident attorneys at Hastings & Hastings PC in Scottsdale understand how to defend your rights to compensation after a car accident. Our decades-long reputation in the Scottsdale area gives our team the legal resources and skills to defend your interests against powerful insurance companies to maximize your chance for a substantial payout on your damages.
Common Causes of Car Accidents
Car accidents can happen under various circumstances, but certain causes tend to come up more often in personal injury claims. Understanding these common reasons helps us better navigate safely on the road.
Distracted Driving: The advent of cell phones and other technology has led to an increase in accidents caused by distracted driving. Texting or checking your calls and adjusting GPS settings can easily lead to accidents. 
Additionally, eating while driving or talking with passengers also diverts attention from the road resulting in a higher chance of collisions.
Speeding: Accidents resulting from a driver exceeding the speed limit or driving too fast for conditions are very common. Speeding reduces the driver's ability to steer safely and extends the distance necessary to stop a vehicle when reacting to danger.
Drunk Driving: Alcohol impairs our cognitive functions and motor skills including reaction times, making drunk driving one of the leading causes of car accident injuries. 
Reckless Driving: Aggressive behaviors such as tailgating, changing lanes without signaling to other drivers, or excessive speed all fall under reckless driving. These behaviors create unpredictable situations on the road, ultimately increasing the possibility of accidents.
Defective Products: Another common cause of car accidents involves defective or poorly designed vehicle parts. This can include brake failure, steering issues, or tires that blow out.
Common Car Accident Injuries
Some of the most significant and deadly injuries occur in car accidents from blunt force trauma to various parts of the body. Some common injuries from these accidents include the following:
Back and neck injuries, sometimes with spinal cord damage
Bone fractures
Organ damage
Amputations
Burns
Scarring and disfigurement
All of these significant injuries require medical treatment and missed work days. Some injuries result in long-term impacts, including disability or even death. When an injury occurs due to the negligence of another party, the results are even more distressing. A Scottsdale Arizona accident attorney will advocate for you against powerful insurance companies during negotiations or in court if necessary to secure the best possible payout on your injury damages.
Potential Liability In Car Accident Claims 
In any car accident, determining who is liable for damages isn't always a straightforward process. Here are some parties that might hold liability:
Other Driver: Drivers are required to obey traffic rules and exercise reasonable care on the road. Should they fail to do this, and an accident occurs due to their negligent actions – such as speeding or drunk driving – they would generally bear responsibility for your damages.
Employer of Driver: When an employee causes an accident while performing work-related duties – business deliveries or commercial trucking for instance – their employer may also be held liable.
Manufacturer: If your car accident occurred due to a defect in your vehicle or one of its parts, you might be able to hold the product manufacturer liable under product liability law.
Victim: In some cases, even as a victim you may carry partial responsibility for an accident. Under pure comparative negligence rules followed in Arizona, if you are found partially at fault, recovery will be reduced based on your proportional liability. 
"The defense of contributory negligence or of assumption of risk is in all cases a question of fact and shall at all times be left to the jury. If the jury applies either defense, the claimant's action is not barred, but the full damages shall be reduced in proportion to the relative degree of the claimant's fault which is a proximate cause of the injury or death, if any."
For instance, if it's determined that you were 20% at fault during an accident, any compensation awarded to you would be decreased by 20%. You can recover compensation under pure comparative negligence even if you're up to 99% at fault.
Remember, these are just general principles, and each case depends on the specific circumstances surrounding your accident; always consult with a qualified attorney to determine the best path forward.
How Do You Prove Liability in Arizona?
Before you can recoup your economic and non-economic damages after a car accident, you must prove the other party liable for your injuries. This requires an investigation to find evidence to show liability, whether the fault was another driver's actions, the city or county that didn't properly maintain signal lights, traffic signs, or road conditions, or a vehicle or parts manufacturer. Arizona accident victims must prove the following to show liability:
That the defendant owed them a reasonable duty of care to keep them and others safe
That they breached their duty of care by their actions or inaction
That their breach of duty directly caused the victim to suffer an injury
That the injury has led to significant economic and non-economic losses
Statute of Limitations for Car Accident Claims in Arizona
The statute of limitations refers to the time limit within which you must file a claim or lawsuit following an accident. In Arizona, this period for most car accidents is two years from the date of occurrence.
However, there can be exceptions that alter this general timeline. For instance, if a government agency is involved in your claim – say, due to poor road maintenance leading to your accident – different rules apply and potentially shorter deadlines exist.
Always speak with an experienced lawyer as soon as possible so you don't miss your chance to recover the compensation you're entitled to.
When You Should Hire a Car Accident Lawyer
Knowing when to hire a car accident lawyer can greatly impact the outcome of your case. Here are a few scenarios that may warrant seeking legal help:
Severe Injuries: If your injury is severe, requiring substantial medical treatment or causing long-term disability, it's advisable to have an attorney advocate on your behalf. They can help ensure that all current and future medical costs associated with the accident are included in any settlement amount.
Significant Property Damage: In cases where there is major damage to vehicles or other property, you should consider having an attorney negotiate repairs and replacements.
Uninsured or Underinsured Driver: If you're hit by a driver who doesn't have enough insurance—or any at all— hiring an attorney can help you explore other avenues for compensation such as suing the uninsured driver directly or claiming your own Uninsured/Underinsured Motorist coverage.
Hit and Run Cases: In accidents where another driver flees the scene, it may be difficult to recover damages without legal aid. An experienced lawyer can help investigate these tough cases and make sure you file the appropriate claims to recover compensation. 
Dispute over Fault: When there is disagreement about who is responsible for causing the car accident – especially if you are viewed partially at fault – having skilled legal representation can make a significant difference in how the case turns out for you. 
The Cost of Hiring a Car Accident Lawyer in Scottsdale, Arizona 
The cost to hire a car accident lawyer can vary, but most personal injury attorneys work on a contingency fee basis. This means that you won't owe the attorney any fees unless they help you recover compensation either through settlement or a court verdict.
When they win your case, their fee is a percentage of the total recovery amount and typically ranges from 25% to 40%, depending on factors such as case complexity or if it goes to trial or settles. For example, if your lawyer helped you win $100,000 in compensation and their agreed-upon rate was 30%, then their legal fees would be $30,000.
The benefit of a contingency fee agreement is that your lawyer carries the risk of not getting paid should the case be unsuccessful. It also aligns the interests of both client and attorney; by tying payment to successful outcomes, your attorney becomes as invested in winning your case as you are.
How Your Scottsdale Car Accident Attorney Can Help
The skilled team at Hastings & Hastings PC can maximize your chances of a substantial settlement or positive jury verdict through a diligent investigation of the evidence in your case. By building a case to show liability and highlight your damages, you underscore your right to compensation. Our team will do the following:
Scrutinize accident reports and the police report
Look at photo or video evidence of the scene
Interview eyewitnesses
Review your medical records and bills
Hire experts to reconstruct the accident scene if necessary
Use medical experts to explain your injury and the impacts on your life quality
No one should have to take on the legal system alone while they are busy recovering from a car accident.
What Compensation Can You Expect for Your Car Accident Case?
The state of Arizona acknowledges two types of damages from car accidents, economic and non-economic. After your car accident, you may be eligible to receive compensation for both types. Your Scottsdale car accident lawyer will carefully craft a compelling demand letter to negotiate compensation for the following damages:
Medical expenses (present and future)
Lost wages and future lost earnings
Lowered earning capacity
Pain and suffering
Mental anguish, PTSD, anxiety, and depression
Loss of consortium (Consortium is the ability to enjoy the physical and emotional connection to a spouse or loved one, and/or the ability to engage in play and support of children)
Diminished quality of life or enjoyment of life
While gaining financial compensation cannot erase an accident or heal an injury, it can alleviate financial burdens so you can get the medical care you need and take care of your family while you heal.
What You Should Do After a Scottsdale Car Accident
In cases of severe injury, you shouldn't do anything at the accident scene but focus on your safety and health and wait for first responders. However, if you're physically able to move without causing further injury, and you can keep a cool head, the following steps will help to protect your physical health and financial future:
Move to the shoulder of the road or a safe location nearby (never leave the scene of an accident)
Call 911 and report your location and the accident
If necessary, give comfort and reasonable aid to any other injured victims
Use your phone to collect the contact information of other drivers and eyewitnesses to the accident
Use your phone to photograph the damaged vehicles, license tags, and accident scene
Accept transport to the hospital by paramedics
Tell the doctor about every injury and symptom and ask for detailed notes in your medical report
Follow all your doctor's instructions for treatment and fill every prescription
Ask for a copy of the accident report from your local police
Call a Scottsdale car accident attorney for a free consultation before speaking to insurance representatives
The aftermath of a car accident is frightening and chaotic, but by remaining calm and following these steps you'll be better able to support your own physical and financial recovery later.
Why Should You Choose Hastings & Hastings for a Scottsdale Car Accident Claim?
When you need a Scottsdale personal injury attorney, it helps to know that our Scottsdale legal team has a long local history of defending the rights of accident victims against insurance companies and in court with a strong record of success. We will investigate your accident to craft a compelling case on your behalf to maximize your chances of substantial compensation for your damages. Our 90 years of combined experience allows us to operate on a contingency fee basis so we get paid only when we succeed in your claim.
Call us today to learn about our discounted rates with a free evaluation of your case.