When someone's life is taken due to the negligence or misconduct of another, their family may be able to file a wrongful death claim against the responsible party. These claims exist to help families recover from the financial losses associated with the death and provide compensation for lost wages, medical expenses, funeral costs, and more.
What is a Wrongful Death Claim?
Under Arizona Revised Statute (ARS) § 12-611, wrongful death is defined as "the death of a person caused by another's wrongful act, neglect or default… the act, neglect or default is such as would, if death had not ensued, have entitled the party injured to maintain an action to recover damages in respect thereof, then, and in every such case, the person who or the corporation which would have been liable if death had not ensued shall be liable to an action for damages, notwithstanding the death of the person injured…"
This gives loved ones an opportunity to hold the responsible party liable and seek justice through civil court proceedings.
Types of Wrongful Death Claims
Wrongful death claims can involve any type of fatal accident—from car crashes and workplace accidents to medical malpractice and nursing home abuse. While criminal charges may also arise from these cases, wrongful death is considered a civil matter and liability is expressed in monetary terms rather than jail time.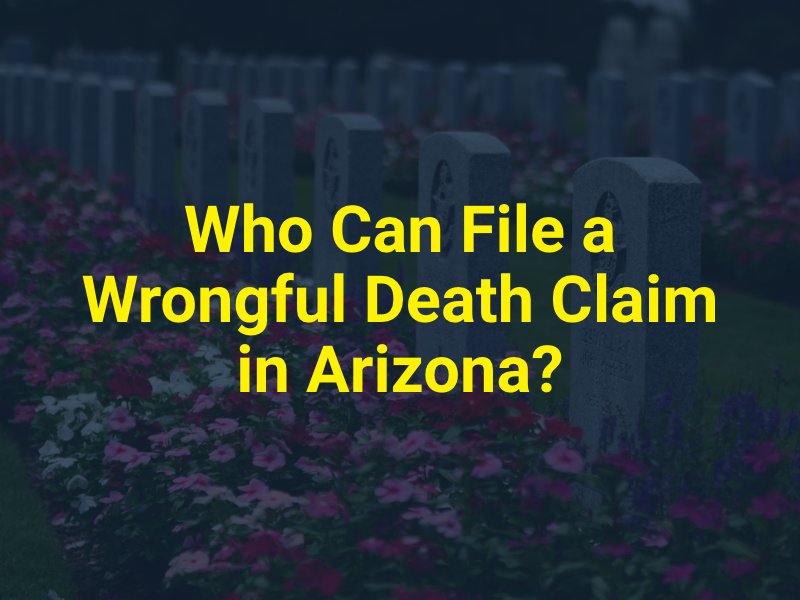 Who Can Bring a Wrongful Death Claim in Arizona?
According to Arizona law, "an action for wrongful death shall be brought by and in the name of the surviving husband or wife, child, parent or guardian, or personal representative of the deceased person for and on behalf of the surviving husband or wife, children or parents, or if none of these survive, on behalf of the decedent's estate." 
Other parties who can be appointed as the personal representative include the following:
Nominated Representative
If your loved one had created a will prior to their passing, then they likely named an executor within that document. This individual would have been given instructions on how to manage the deceased's estate if something happened to them and would therefore have first priority when it comes to acting as a personal representative in court proceedings.
Other Surviving Heirs 
Other surviving heirs of the deceased can be appointed as personal representatives during wrongful death proceedings in Arizona. Heirs often include siblings and sometimes even distant relatives such as cousins or great-aunts/uncles if no closer relatives remain alive or available at time of death.
The Department of Veterans' Services 
The Department of Veterans' can also be appointed as a personal representative for wrongful death claims filed in Arizona if the deceased was a veteran at time of their passing.
Creditors or Public Fiduciary
Creditors (other than funeral directors/homes) may be appointed after 45 days pass with no other individual steps up. 
Finally, if all else fails, a public fiduciary can be appointed to act as the personal representative.
Types of Damages Available for Wrongful Death Lawsuits in Arizona 
When filing a wrongful death lawsuit in Arizona, you may be eligible for several types of damages depending on the circumstances. These include: 
Reimbursement of medical expenses incurred by the deceased before their passing. This includes hospital bills, doctors' visits, prescription medications and more. 

Reimbursement for funeral and burial expenses associated with burying your loved one. This includes casket costs, burial plot fees and other related expenses.  

Loss of financial support that you would have received from your loved one had they not passed away.  

Damages to compensate family members for the "value of love" that was lost due to the untimely passing of their loved one—things like loss of affection, consortium (companionship), comfort and guidance, and household services provided by the deceased before their passing.
When there is more than one beneficiary eligible to receive compensation, the amount received by each person will be proportionate according to how much value each individual has lost as a result of the wrongful death. 
If you need help following the death of a loved one, our Phoenix wrongful death lawyers are here for you. Contact us today to schedule a free consultation.